CLS Students Join Medical Professionals
at Clinical Chemistry Expo
Zika, diabetes and cannabis are among conference topics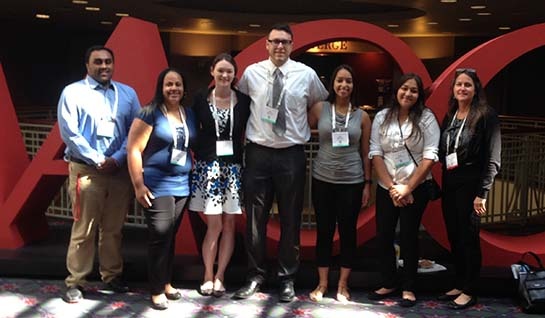 Pictured are Renoy Roy, Victoria Quann, Katrina Terry, Adam Robinson,
Alexandria Martinez, Liliana Zavala and Professor Strobl. A seventh student,
Caroline Germain, was not present for the photo.
Seven Clinical Laboratory Science majors joined approximately 20,000 medical professionals and healthcare leaders on the last day of the 68th Annual Scientific Meeting & Clinical Lab Expo of the American Association for Clinical Chemistry (AACC) in Philadelphia on August 4. The meeting featured pioneering advances in medical testing research and technology that will help patients get accurate diagnoses and more effective treatment.
At the AACC event, leaders in laboratory medicine demonstrated the integral role they play in healthcare—whether it's curbing outbreaks of infectious diseases like Zika, finding new solutions to tackle diabetes, or offering essential insights into cannabis use for policymakers.
Professor Patricia Strobl, department head for math and science, arranged the trip and accompanied the Clinical Laboratory Science majors to the meeting at the Philadelphia Convention Center.
08/05/16