The Medicine of Ancient Egypt

Comes to Neumann University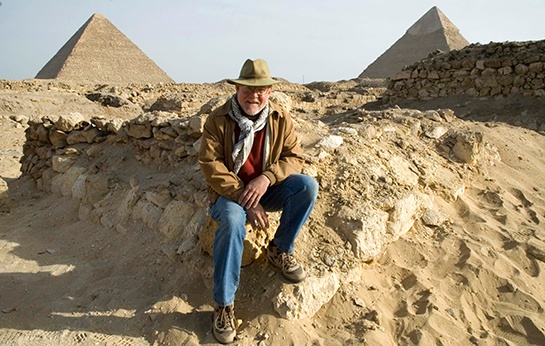 Dr. Stephen Phillips presents

The Medicine of Ancient Egyp

at Neumann University's
Cultural Arts Forum on Thursday, October 13 at 1:30 p.m.
Dr. Stephen Phillips presents his lecture on The Medicine of Ancient Egypt for Neumann University's Cultural Arts Forum on Thursday, October 13 at 1:30 p.m.
Outlined in detail on several surviving ancient Egyptian papyri, effective medical procedures, uncannily similar to medicine today, provide intriguing evidence as to the skill level of ancient Egypt's physicians. Physical evidence of successful medical procedures presents on actual ancient Egyptian human remains. This richly illustrated presentation illuminates ancient Egypt's medical world, the role of magic in medicine, and examines several actual cases as outlined in a 3,000-year-old medical papyrus.
Included is evidence of the successful treatment of a severe trauma on a human skull recovered by Dr. Phillips during recent excavations in the cemetery complexes behind the Great Pyramids and Sphinx at Giza.
Dr. Phillips is the Curatorial Research Coordinator in the Egyptian section of the University of Pennsylvania Museum of Archaeology and Anthropology. He has participated in archaeological excavations in Jordan, France, and Egypt. Dr. Phillips is also the Site Supervisor and Physical Anthropologist for the ongoing Cairo University-Brown University Expedition in the Great Western Cemetery at Giza.
This event is presented by the Cultural Arts Forum, which has been sponsoring events to support adult women students at Neumann University through the endowed scholarship named in honor of the founder of the Forum, Dr. Margaret Mary Kearney. Since its founding in 1970, the Forum has presented more than 250 events and seminars.
The event will be held in the Fred P. Meagher Theatre in the Thomas A. Bruder, Jr. Life Center on campus. Admission is $10. Free for all Cultural Arts Forum members. Please contact Nicholas DiMarino at 610-558-5626 or at dimarinn@neumann.edu for more information.
09/28/16