The Death of Pilate
at Neumann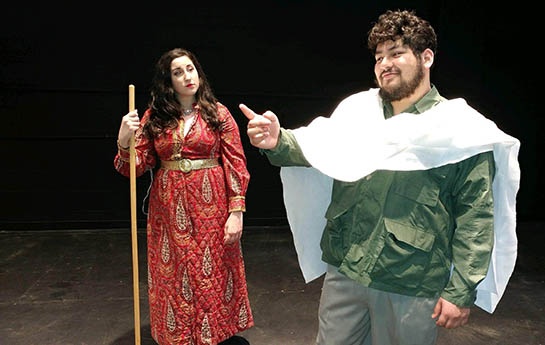 Deanna Stellabotte and Luis Giron star in

The Death of Pilate
at Neumann University March 16-19
The Neumann University Players presents The Death of Pilate from Thursday, March 16 through Sunday, March 19 at Neumann University.
The Death of Pilate is based on a medieval Cornish passion play sourced from a 19th century literal translation by Edwin Norris. The play will feature a newly updated translation workshopped by the students, director, and music director. The result is a weird and wonderful musical version of this rarely seen play. Originally performed within a series of passion plays, this installment features Pontius Pilate meeting a ghoulish fate following his role in the crucifixion of Christ. During the middle ages, these plays would be performed on stationary circular sets, which will be recreated here for these performances.
The Neumann University Players, formerly known as the Theater Ensemble, is a company of students, faculty, staff, and alumni since the group was founded in 1984.
The play will be held in the Fred P. Meagher Theatre in the Thomas A. Bruder, Jr. Life Center on campus. Performances run Thursday, March 16 to Saturday, March 18 at 8 p.m. and Sunday, March 19 at 2 p.m. Directed by John Baxter. Admission is $10. Seniors/students are $5.
02/20/17