Neumann and Drexel Universities to Offer
Early Admission Program in Math, Engineering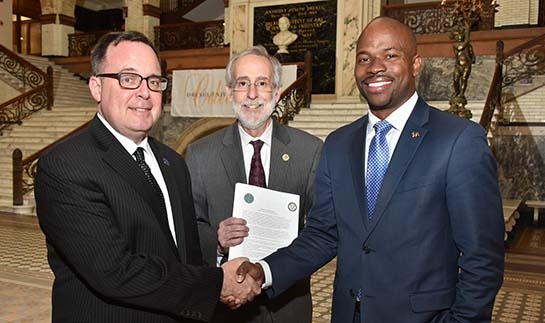 The agreement was signed by Dr. Lawrence DiPaolo, vice president for
academic affairs at Neumann; Dr. John DiNardo, senior vice provost for
academic affairs at Drexel; and Dr. M. Brian Blake, executive vice president
for academic affairs and provost at Drexel.
The Knights and the Dragons are working together.
Neumann University has partnered with Drexel University College of Engineering to offer students the ability to obtain a B.S. in Mathematics and a B.S. in Engineering in approximately five-and-one-half years.
The Early Admission Program begins with students enrolling as Mathematics majors at Neumann University, where they will have to complete 75% of their bachelor's degree requirements (approximately 90-92 credits) before transferring to Drexel University's College of Engineering. Neumann's program of study requires coursework over two summers to allow the student to transfer into Drexel University in the spring of their junior year in time to get in sequence for their first Cooperative Education (Co-Op) experience.
Drexel's hallmark Co-Op program places students with employers in 35 states and 45 international locations. The majority of these Co-Ops are paid.
According to Dr. John DiNardo, Senior Vice Provost for Academic Affairs at Drexel, "Students who enroll under the Early Admission Program and meet all requirements are eligible to transfer to Drexel's College of Engineering in their junior year. They can specialize in either Computer Engineering, Electrical Engineering or Mechanical Engineering."
An added benefit of the cooperative Engineering agreement is that students who have successfully transferred to Drexel's College of Engineering in their junior year may also have the option of studying for an M.S. in Engineering at Drexel.
"The Early Admission Program is highly selective and is open only to those students who have achieved a minimum score of 550 in the mathematics section of the SAT, a high school GPA of 3.0, and the ability to begin mathematics coursework at the level of Calculus I," noted Dr. Lawrence DiPaolo, Vice President for Academic Affairs at Neumann.
Students must also maintain a cumulative undergraduate GPA of 3.0 while enrolled in the Early Admission Program.
For more information about the Neumann University/Drexel University Early Admission Program, please contact Dr. Ryan Savitz at savitzr@neumann.eduor 610-558-5587.
03/31/17