Dr. Rosalie M. Mirenda Granted President Emeritus Status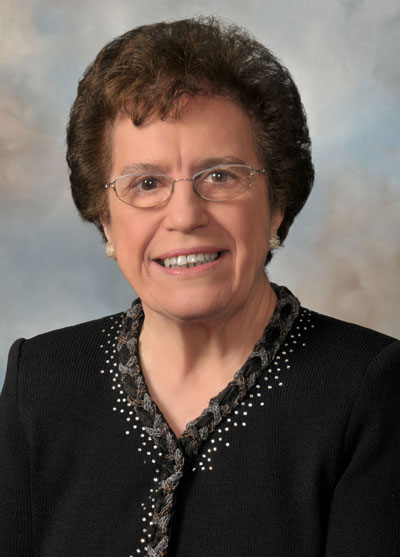 On June 9, the Neumann University Board of Trustees granted President Emeritus status to Dr. Rosalie M. Mirenda, effective July 17, 2017. Dr. Mirenda, who has served as University president for 21 years, retires on July 16, 2017.
"Dr. Mirenda meets all of the criteria for this distinguished status," said James Delaney, chairperson of the Board. "She has been the CEO, spiritual leader and guardian of this campus for 21 years. Neumann University is well-positioned for the future because of her extraordinary leadership, and the Board is delighted to award this recognition to her."
According to the President Emeritus policy, "President Emeritus status should be reserved to honor a University president who is retiring or has retired; has provided outstanding and distinguished service to Neumann University; and has served as University president for at least ten years."
The policy defines "outstanding and distinguished service" as service "which goes beyond the normal duties and responsibilities of the appointment, and which has had extraordinary impact on the University and/or broader community." It also stipulates that the individual has exemplified "the highest standards of personal and professional integrity, civic responsibility, vision and leadership" and has advanced "the Catholic Franciscan mission of the University."
As President Emeritus, Dr. Mirenda may be called upon by Dr. Chris Domes, the new University president, to provide counsel or to serve in other volunteer capacities in support of the University. Dr. Mirenda has indicated a willingness to assist with the Forward with Faith campaign, which has three components: raising funds for the construction of the Student Life and Health Sciences Center; and increasing the endowments for the Neumann Institute for Franciscan Studies and the Institute for Sport, Spirituality and Character Development.
"I have been blessed to serve this wonderful University and the mission of the Sisters of St. Francis of Philadelphia for more than four decades," said Dr. Mirenda. "I am humbled by this Board decision and assure the University community of my continued interest in and support of Neumann and its Catholic Franciscan tradition."
06/28//17