Studio Day: A Hands-On Open House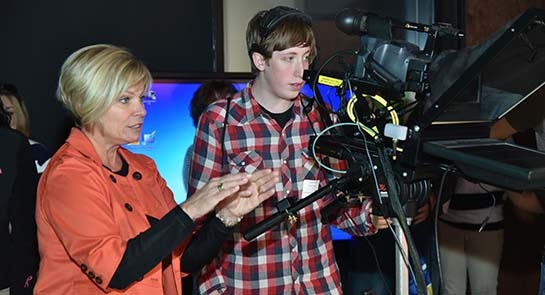 Andrew Walton of Great Valley High School gets some tips on camera angles
from NBC 10's Karen Thomas, a Neumann faculty member.
Studio Day was a very unusual open house and a huge hit. After only 15 minutes of welcomes and introductions, 39 high school seniors swarmed into the brand new John J. Mullen Communication Center to try their hand at a variety of high-tech roles that Neumann offers in its Communication and Digital Media (CDM) major.
They visited the largest of three radio studios, testing their on-air voices and putting songs into the WNUW playlist while their parents and friends chatted with Steve Morrison of WMMR's "The Preston & Steve Show," the top-rated morning drive show in Philadelphia.
Karen Thomas, an NBC 10 meteorologist and Neumann faculty member, and Sue Serio of "Good Day Philadelphia," both familiar faces in homes across the region, introduced them to the classroom TV studio. Students sat at the news desk, read from teleprompters, operated cameras, and tested their green-screen look during mock weather forecasts.
In a second spacious TV studio, designed for professional production, students took on different roles under the guidance of Neumann Media staff members and full-time faculty: Sean McDonald, Pat Fahy, and Dr. Joseph Glass. Here, they were introduced to the unlimited production possibilities of having both studios broadcast in conjunction with sports or other live events from the Mirenda Center for Sport, Spirituality, and Character Development.
The open house concluded with a panel discussion by four veteran professionals: Morrison, Serio, Thomas, and Frank Neill, a public relations and social media expert from Brian Communications. All spoke of the importance of college internships to gain experience and build networks in the field of communications. Neumann's CDM major requires at least one internship and encourages more.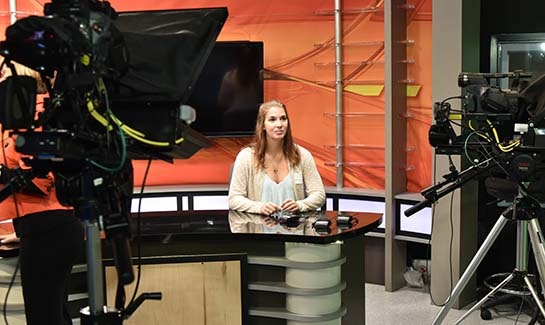 Melanie Hart, a student at Interboro High School, settles in behind the news desk
and awaits her cue to begin the next story.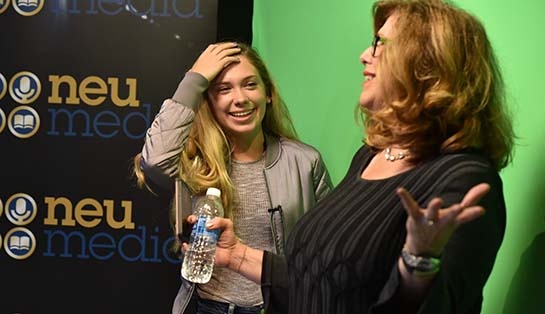 Waiting her turn as Neumann Media news anchor, Julia Nipe of Pennsville
Memorial High School chats with Sue Serio of Good Day, Philadelphia,
the Fox News morning show.
10/25/16