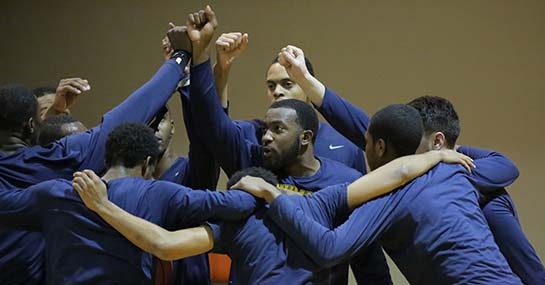 DeShawn Lowman, CSAC Male Athlete of the Year
Neumann students notched some significant achievements in 2016, and there were many more than ten, to be sure. Below are some of the accomplishments that stood out during the last year.
Alexandria Martinez and Solomon Kokolie received Materials Science and Engineering Summer Research Fellowships from Temple University. Both Alexandria and Solomon are biology majors.
Katrina Terry, a biology major, co-authored a paper that was published by the American Society for Microbiology. The article provides notice to the scientific community that the mycobacteriophage genome called Cabrinians has been sequenced.
Sonia Adamidis, a biology major, was awarded the Sigma Zeta Research Award for her project titled "Amphipathic Dimers: a New Class of Antibiotics" by the National Officers of Sigma Zeta. Sonia worked closely with fellow student researcher Afua Boateng, who is also a biology major.

Nikolria Grant, a biology major, was selected to pursue undergraduate summer research as part of the University of Pennsylvania's Perelman School of Medicine's Short-Term Educational Experiences for Research (STEER).
DeShawn Lowman was named the CSAC Male Athlete of the Year. The basketball player from Wilmington, Delaware, averaged 17.6 points and 5.8 rebounds in 2015-16.
Cody MacNair was CSAC Player of the Year in baseball. The catcher from Cinnaminson, NJ, hit .369 with 30 RBIs and six home runs in 36 games.
The Knights Softball Team won its second straight CSAC championship and finished with a 21-1 conference record.
The Knights Roller Hockey Club brought home a second consecutive national championship on April 9. The club defeated the University of Nevada at Las Vegas, 4-1, to capture the crown. During the last two seasons, Neumann is 69-2 (a winning percentage of .971), playing against much larger colleges from across the country.
Matt Janicki, an education major, was one of 11 students in the country to receive a Delta Epsilon Sigma scholarship for 2016-17. Delta Epsilon Sigma is the National Catholic Honor Society.
Patrick McCann, a political science major, completed a fall 2016 internship in Harrisburg through Neumann's partnership with Temple's Capital Semester Program. Brittany Naimoli has been accepted to serve the same internship in spring 2017.
12/20/16