Success Stories 2017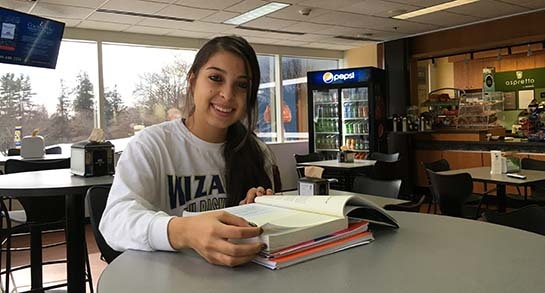 Alejandra Fernandez, a Political Science major, has been accepted into Temple University's Capital Semester program for the fall of 2017.
Katrina Terry has been accepted to Drexel University's PhD program in Biology. "I wouldn't have been able to achieve this without the faculty at Neumann," she wrote to Dr. Rosalie Mirenda. "I have had excellent mentors in biology, math, and especially in leadership during my time here. I feel the people at Neumann have helped shape me into a confident young woman. I am so thankful I ended up at Neumann. I really love the community and I will surely miss it come May."
Helen Cooney, a soon-to-be Mathematics major, and Dr. Ryan Savitz, professor of Mathematics, will be engaged in summer research, courtesy of funding from the Henry Luce Foundation. The tentative title of their paper is "The History of the Definite Integral." They plan on submitting a work in progress in late May to a major conference called "Mathfest."
Alejandra Fernandez, a Political Science major, was accepted into Temple University's Capital Semester program for the fall of 2017. She is the third NU student over the past 3 semesters to be accepted and enroll. Patrick McCann (fall 16), and Brittany Naimoli (spring 2017) are the others.
Haley Broomell, a senior Biology-Clinical Laboratory Science major who helped identify new bacteriophages as part of the SEA-PHAGE project when she was a rising sophomore, was accepted into Temple University's Master's in Occupational Therapy program.

Jonathan Low, a Biology major who graduated in May 2016 has been accepted to Rowan University's School of Osteopathic Medicine.
Alumna Clarissa Hayes, a member of the class of 2015, was accepted at both Rowan University School of Medicine and West Virginia University School of Medicine.
Two graduates of the Public Safety Administration program were recently appointed to significant positions with the Philadelphia Fire Department. Gary Loesch (from PSA's first graduating class in May 2016) was named Deputy Commissioner of Operations, and Anthony Sneidar (December 2016 graduate) was named Deputy Commissioner of Technical Services.
Joan Kariuki, who graduated in December 2013 with a B.S. in BIO/CLS, has been accepted to two Schools of Pharmacy: Thomas Jefferson University and Notre Dame of Maryland University.
Dr. John Mizzoni, professor of Philosophy, has published a new book, Evolution and the Foundation of Ethics. If human biological evolution is part of our worldview, then how do commonplace notions of ethics fit in? In asking the question, 'What does evolution imply about ethics?' we must first be clear about what we mean by evolution.
The Pennsylvania Chapter of The American Chestnut Foundation recognized Dr. Mac Given, professor of Biology, with a story in its newsletter about his work at Tyler Arboretum to preserve the American chestnut tree.
Lacrosse player Chase Fraser was the third overall selection in the Western Lacrosse Association 2017 draft. He was chosen by the Nanaimo Timbermen.
The women's rugby team finished the year ranked eighth in the country by the National Small College Rugby Organization.
The
men's basketball team
finished the 2016-17 season with a 25-3 record, won the CSAC regular-season and tournament championships, and earned a #11 national ranking.
03/06/17