Center Stage Productions
Fiddler on the Roof
Performances run Thursday through Saturday, August 10-12, at 8 P.M. and Sunday, August 13, at 2 P.M in the Fred P. Meagher Theatre in the Thomas A. Bruder, Jr. Life Center.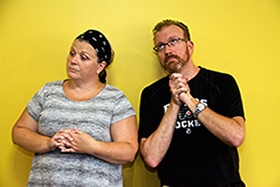 Set in the Pale of Settlement of Imperial Russia in 1905. It is based on Tevye and his Daughters by Sholem Aleichem. The story centers on Tevye, the father of five daughters, and his attempts to maintain his Jewish religious and cultural traditions as outside influences encroach upon the family's lives. He insists that, without their traditions, he and the other villagers would find their lives "as shaky as a fiddler on the roof."
Opening in 1964, Fiddler on the Roof had the first musical theatre run in history to surpass 3,000 performances and held the record for the longest-running Broadway musical for almost 10 years. It remains Broadway's sixteenth longest-running show in history. The production won nine Tony Awards, including Best Musical, score, book, direction and choreography. It spawned five Broadway revivals and a highly successful 1971 film adaptation, garnering 8 Oscar nominations and 3 wins.
ADMISSION: General $15; College students with ID $12; Students under 18 years $12; Seniors $12.
TICKETS / INFORMATION: Please call 610-558-5626
08/04/17