A Special Prom for Special Students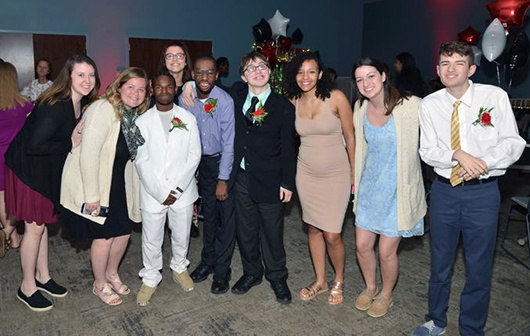 On April 16, 2018, the Student Multipurpose Hall in the Mullen Communications building was transformed into party central for the CADES Prom. Neumann University students in the Collaboration and Communications special education course hosted the daytime prom for students from CADES (Children and Adult Disability and Education Services).
Ten students from CADES, ranging in age from 16 – 21, danced and sang with Neumann University students who are majoring in Early Elementary/Special Education. The two groups have become friends through a collaboration program developed by Neumann University professor Dr. Jenelle Abnett.
Over the past three years, Neumann students have planned social and academic activities for the CADES students both on campus and at the CADES facility in Swarthmore, Pennsylvania.
"One of our students suggested a prom. They all planned it, decorated the room, and made the centerpieces. Everyone wanted to be a part of this prom. I never had to tell anyone to get involved," said Abnett. "This was the best day ever! There was joy on everyone's faces. The Neumann University students who ran this event are a great group of girls."
Grace Stafford, an Early Elementary/Special Education major, knows how special a prom can be to high school students. She felt the CADES students deserved the experience of having a prom before they graduated.
"Toward the end of the prom we had the microphone out and that was so much fun. Everyone would cheer them on when they were done singing," Stafford noted.
The Neumann University students obtained donations from the Giant Food Store along with boutonnieres and corsages from Wise Original Florist, both located in Aston.
"They've never been to a prom before so we went all out for them and they loved it. Teachers do more than teach we make impacts on our students' lives it was an honor to make them feel loved and appreciated on their big day," said Neumann University student Aalyssa Moyer.
In addition to hosting and attending the prom, the two groups of students have worked together throughout the semester. The CADES students came to campus and the Neumann students helped them order food and fill out paperwork to get a student IDs for the day.
For some of the Neumann University students, these interactions with the students from CADES are the first opportunity they have had to get to know students with special needs. They come to realize that they are more alike than different.
A deep bond has developed between these two groups of students. One day the Neumann students will use what they have learned from the CADES students in their own special education classrooms.
5/23/18