HEADstrong: Perfect Internship for Lacrosse Players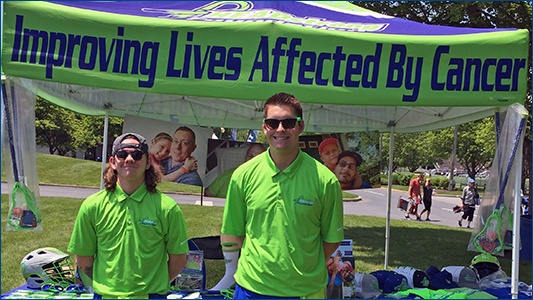 A wise person once said, "If you find a job that you love, you'll never work a day in your life." On a smaller scale, the same can be said for an internship.
Alex Rucci and Brendan Risley, two Neumann lacrosse players, spent last summer as interns for the HEADstrong Foundation based in Ridley, Pennsylvania. HEADstrong is the vision of beloved Delaware County native Nicholas "HEAD" Colleluori, a high school and college lacrosse player who passed away in November 2006 from non-Hodgkin's Lymphoma.
His foundation's mission is to improve the quality of life for those affected by cancer. The organization accomplishes this goal by establishing a series of homes, called "Nick's houses," for cancer victims and their families. These homes provides complimentary lodging for out-of-town patients and their families who are undergoing cancer-related treatment in the Philadelphia metropolitan area. Nick's House is not a medical facility but a guest house designed to meet the unique needs of patients, their families and/or caregivers. Nick's last wish was that others would benefit from his journey.
While interning at HEADstrong, Rucci traveled to Lake Placid, New York, for the Lake Placid Summit Lacrosse Classic. There he shared Nick's story with lacrosse players and their families. Rucci also promoted HEADstrong at the Leigh Laxfest, a youth lacrosse tournament at Leigh University.
"Spreading the HEADstrong message is most important. We tell the story and make a connection. Nick's story still lives on. It's not just about him but for everyone else going through something similar," Rucci said. The internships provided Rucci and Risley with a closer look at how a non-profit organization functions. They worked in the office and out in the community.
"The big thing I experienced was seeing what the real world is really like. No one is holding your hand. You never know what is going to be thrown at you," Rucci said.
As a former Ridley High School lacrosse player, Risley was very familiar with Colleluori and his foundation. He was inspired by Nick's story and jumped at the chance to work for HEADstrong.
"I learned many marketing skills and how to market their product. I also learned inventory management skills," Risley said. Risley was still interning for the organization in September when a ground breaking ceremony was held for the next Nick's house in Swarthmore, PA.
Both Rucci and Risley hope to combine their love of sports with a career in the sporting field. Rucci is a Sport and Entertainment Management major and Risley is a Business Administration major. Their summer intern experiences gave these Neumann students valuable insight into the inner workings of a non-profit, sport-related organization.
11/7/17