Watch Out NYC, Here Comes Alicia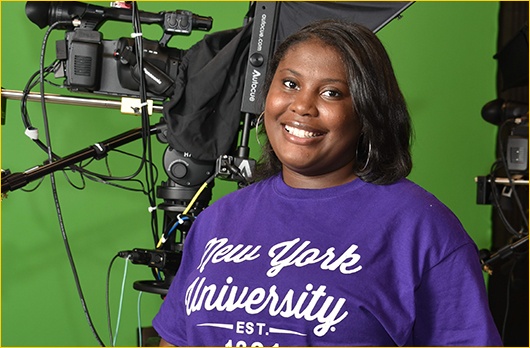 Studying abroad has become a staple for many college students as they seek to broaden their perspectives. Neumann junior Alicia Galat wanted that experience, too, but wasn't keen on the idea of traveling overseas. So she researched options for studying at another university right here in the United States.
Alicia's major is Communications and Digital Media, so she narrowed her search to schools that offered programs in radio and television. That search led to her dream location and school, New York University's Tisch School of the Arts.
NYU's Tisch School of the Arts is a center of study in the performing and media arts. It's a training ground for artists, scholars of the arts, filmmakers, and creative entrepreneurs. Alicia knew how competitive the NYU program is. Thanks to Neumann's John J. Mullen Communication Center, however, she had acquired the skills needed to compete for a spot in one of the nation's best media programs.
The Mullen Communication Center is Neumann's studio complex that opened in 2016 for students interested in broadcasting, digital media, communications, and journalism.
"I've gotten the opportunity to do radio shows and write for the Joust online (Neumann's student-run digital newspaper)," she explained. Alicia even carved out a niche for herself with a series of short videos called "Thankful Thursday," patterned after Jimmy Fallon's Thank You Notes segment on his late-night television show. "Now I've become experienced in all media aspects."
After completing the Tisch application and traveling to NYU for an interview, Alicia was notified that she had been accepted and she is eager to begin her semester in the Big Apple.
"I really want to get comfortable with New York City. I'd like to start a vlog and document my experiences," she said. "I'll get the opportunity to take a few different courses at NYU, like Making Webisodes, Casting and Auditions, and Fundaments of Sight and Sound for Film and TV."
Working in the video/television industry is one of her career goals, and she believes that her experience with Neumann Media has given her the skills to achieve it.
"My dream job is having my own talk show, and I've been practicing being comfortable in front of the camera here at Neumann." First, there's a degree to earn. "I plan on coming back to Neumann and adding that NYU kind of perspective here," she said.
After graduation, look out NYC. "I really want to move to New York City and work on a television show."
12/1/17