All's Fair at Academic Awards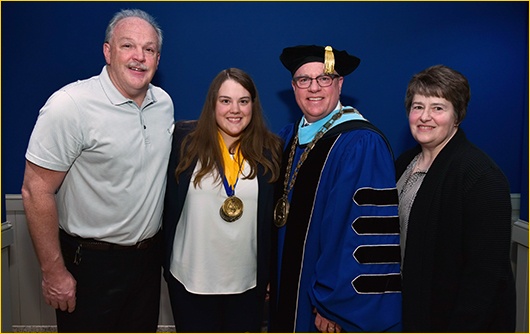 Julia Fair stole the show at the April 20 Academic Awards Convocation. The senior from Meadville, PA, won four awards, including the Valedictory Medal, which recognizes the highest GPA, leadership activities and community service.
In addition to being named valedictorian, Julia also won the Excellence in Business Administration, John A. Phillips Scholar-Athlete, and Presidential Ambassador Awards. She will graduate on May 12 with a bachelor's degree in Accounting and Business Administration, and a master's degree in Accounting.
She served as captain of the women's ice hockey and golf teams and as president of Delta Mu Delta, the business honor society. Her community service included coordinating a Veterans Wellness Fair with information about PTSD and career development advice as well as supervising a paper shredding project to support a local rescue-pets organization. She also completed two internships and launched her own coaching business, Knight Way Goaltending.
Other multiple award winners were Dylan Diodato (Pennsylvania Institute of Certified Public Accountants Award, Alumni Association Award, and Presidential Ambassador Award); Megan McDermott (Excellence in English Literature and Secondary Education Awards); and Erin Martz (Excellence in Communication Arts and Presidential Ambassador Awards).
Faculty awards went to Dr. Karen Albaugh for Excellence in Graduate Teaching; Dr. Marisa Rauscher for Excellence in Undergraduate Teaching; Dr. Andrea Lobacz for Growth in Scholarship; and Dr. Paul Harmon for Excellence in Teaching by Part-Time Faculty.
Anthony Murphy, vice president for commercial lending at Beneficial Bank delivered the keynote address. He noted that St. John Neumann was influential in founding both the bank and the university and urged students to work hard, pursue their passion, find a mentor, and prepare to deal with change.
In his closing remarks, Dr. Chris Domes, Neumann's president, hailed the achievements of the more than 50 students who had been recognized at the ceremony and reflected upon the excellence he had witnessed in students and faculty during his first year at the helm of the university.
4/23/18