Neumann Honors Alumni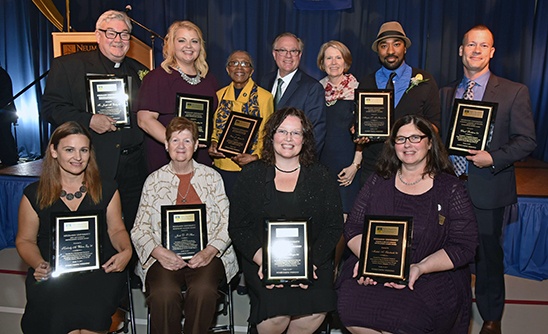 Neumann University honored outstanding alumni at its annual Alumni Awards and Hall of Fame Recognition Dinner on October 14.
Fr. Joseph Corley '89 was named the Distinguished Education and Human Services Alumnus. Alloyius McIlwaine '04 received the Young Alumni Achievement Award.
Rose Morris '79 received the Alumni Association Recognition Award for dedication and devoted service. Jude O'Shea received the Honorary Alumni Award for embodying the standards of the university.
Jason Peterson '03 '12 received the Volunteer of the Year Award for his service to Neumann. Jacqueline Powers '14 '16 was named Distinguished Continuing Adult and Professional Studies Alumna.
Chad Rolston'01 was honored as Distinguished Business and Information Management Alumnus. Angel Smedley '90 received the John Neumann Award for professional development and community service.
Kelly Stenger '90 received the President's Distinguished Alumni Award for leadership and commitment to the university. Michele Szkolnicki '86 was named Distinguished Nursing and Health Sciences Alumna.
Kimberly Wilson '96 was named Distinguished Arts and Sciences Alumna.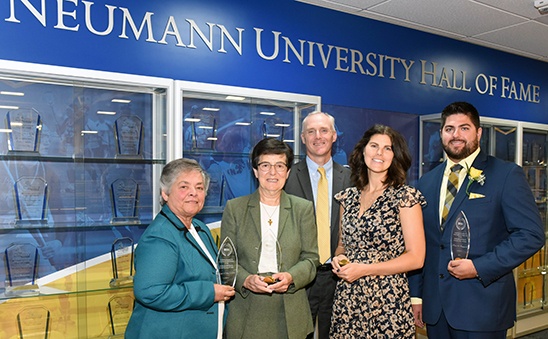 Five alumni were inducted into the university Hall of Fame: Sr. Linda DeCero, OSF '01, Kevin Flanigan '13, Michael Hedden '09, Sr. Marguerite O'Beirne, OSF'70, and Angela Sebasto '10.
10/19/17