Students Meet Top Cops in Financial Crime Prevention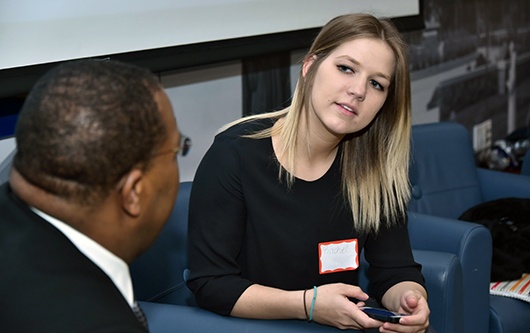 Criminal Justice majors had the opportunity to meet some top Delaware Valley financial crime prevention professionals at an April 11 recruiting event and panel discussion.
The Delaware chapter of the Association of Certified Anti-Money Laundering Specialists (ACAMS) held the event in the Student Multipurpose Hall and invited students looking for careers in law enforcement to attend and to bring resumes to distribute. The one-hour meet-and-greet prior to the panel discussion attracted students who are Criminal Justice majors and Intelligence Studies minors. The students mingled with the panelists and about 80 audience members who work at banks, credit unions, accounting and law firms, and law enforcement agencies.
The panel discussion, entitled "Using Intelligence Products for Combatting Drug Trafficking & Money Laundering," featured three speakers:
Jeremiah Daley, executive director of the Liberty Mid-Atlantic High Intensity Drug Trafficking Area
Jim Erwin, group supervisor with the Philadelphia Field Division of the Drug Enforcement Administration
Jamie Maginnis, lead investigator with the law firm Kessler Topaz Meltzer & Check, LLP
ACAMS is the largest international membership organization dedicated to enhancing the knowledge, skills and expertise of anti-money laundering and financial crime detection and prevention professionals. Members include representatives from a wide range of financial institutions, regulatory bodies, law enforcement agencies, and industry sectors.
4/12/18