Alumna Hosts Radio Morning Show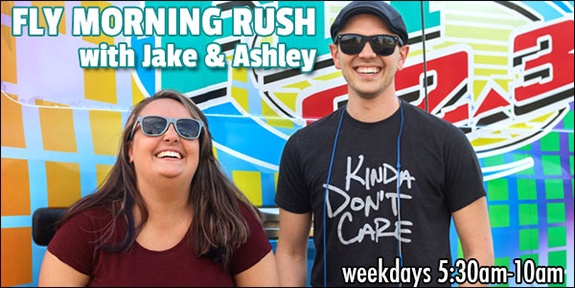 There's a familiar voice on the FLY 92.3FM morning show. The station, located in Albany, New York, is home to the Morning Rush with Jake and Ashley. Ashley is Neumann University's own Ashley Kreer, a 2014 graduate.
Every morning Kreer joins Jake Allen on the air from 5:30 a.m. to 10:00 a.m. and she couldn't be more excited. According to Kreer, Allen has extensive on-air radio experience, and she is learning a great deal from him.
"I saw that there was an opening for a morning show in Albany, and I applied for it. I never thought I would get it. This is my dream. This is what I was waiting for. No one wants to wake up at 4:00 a.m. and go to work, but I love it," Kreer said.
In addition to being on the air each morning, Kreer is also heavily involved with the production side of the radio business. In this role, she is using skills she developed as a Communication and Media Arts major (now Communication and Digital Media) at Neumann University.
In reality, Kreer's radio career began while she was a student at Neumann. As a communications major, Kreer was heavily involved in Neumann's radio and TV stations. She was also the editor of The Joust, Neumann University's student-run newspaper.
Kreer's goal was to land a job in the entertainment industry after graduation. She set out on a path to gain as much experience as possible. During her freshman year at Neumann, Kreer interned at WSTW 93.7 FM in Wilmington, Delaware.
"WSTW was the station I listened to growing up. It was an honor to work for them," she explained. "I knew it was an amazing opportunity, and I knew it would lead to other opportunities in the future. I made sure I was willing to learn and do anything they would throw at me. That was something that Sean (McDonald) taught me."
Kreer credits much of her success to her Neumann University instructors Sean McDonald, the director of Neumann Media, and Joe Bonadonna.
"Sean would sit in the studio with me and give me suggestions like relax, be yourself, and have fun. He would tell me that this is the place to make mistakes. Neumann was such a great place for me to figure out what my interests were," said Kreer.
The main reason Kreer chose Neumann was because of the hands-on opportunities that students had to learn the entertainment industry.
"Neumann University prepared me. Having teachers and professors who care about you and are willing to help you is so important. The networking that I was able to do while I was a student wouldn't have been possible without Neumann University," said Kreer.
09/13/17