Freshman in Her Field of Dreams this Summer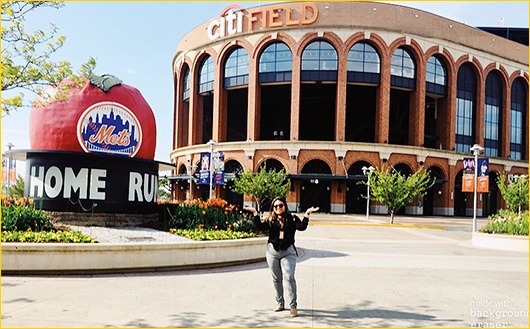 Freshman Ashley Barba really stepped up to the plate when it came to getting her first summer internship. This Sport Management major from the Bronx set her sights high and knocked one out of the park!
Barba has a paid summer internship with the New York Mets in the team's group sales division. For a girl who has lived in New York her entire life and is a huge Mets fan, this opportunity is beyond her wildest dreams.
"My dad is a huge Mets fan so I grew up watching them. Obviously working for them is a dream come true. It's honestly the best thing ever," Barba said.
Barba credits her first year at Neumann with giving her the tools and insights to pursue this dream internship. One of the first courses that she took in her major was Introduction to Sport Management taught by Professor Caleb Mezzy. During this class, she was encouraged to network and build confidence. Barba took these skills with her when she interviewed with the Mets organization.
"My intro class professor always told me to start a relationship with these people. I learned that people are willing to help you and willing to give you a hand," Barba noted. "I'm very positive and they saw something in me. I stood out and I was willing to do the work."
Barba has already worked several games for the Mets while finishing up her spring semester at Neumann. One of her first job responsibilities was to escort a group of children out to the diamond of Citi Field to sing the national anthem. She got chills when the Met's manager casually walked passed her.
"I was walking with the kids and I saw Mickey Callaway, the Met's manager. I was so shocked that I didn't even say anything. I just kept walking," recalled Barba. Barba didn't just get this internship because of good luck. She had a plan, and it started with attending a Sales Academy at the Barclays Center in Brooklyn, New York, over Christmas break. The Sales Academy is a one-day event for aspiring sports sales professionals. It is typically attended by graduating seniors and recent college graduates. Barba was the only freshman in the group. She gained much information about working in the sport business from this experience.
"Some people there worked for the Mets and that's how some people in the organization already knew me when I interviewed. I learned that people are willing to help you and willing to give you a chance," she said.
The feeling of working for her (and her dad's) favorite baseball team will never get old for Barba. Each day is a thrilling experience.
"I have no words to explain the first time I was on the field. My dad is so proud of me. He's in shock," she said.
5/12/18