Exploring a Diversity of Traditions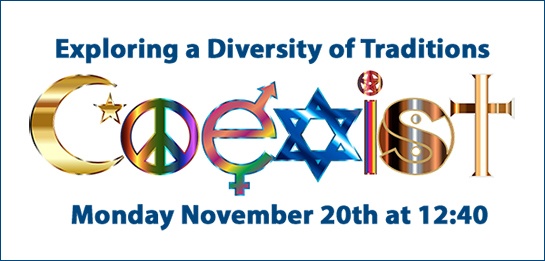 Criminal Justice Professor Dr. Leanne Owen believes that the first step to acceptance is understanding. In an effort to promote the concept of coexisting, Owen is hosting a student-led panel to explore various faith-based and spiritual traditions on November 20, 2017.
"Exploring a Diversity of Traditions" is an opportunity for the University community learn from each other regarding their faith. It takes place at 12:40 p.m. in the Student Multipurpose Hall of the Bruder Life Center.
The goal of the event is to expose students to other religions. To complement this program, Owen organized trips to several places of worship in the Delaware Valley. Neumann students had the opportunity to attend the Islamic Center of Chester County in West Chester, and Beth Sholom Synagogue in Elkins Park. They also visited a mosque in Upper Darby.
"They were all very helpful. The mosques were very hospitable. They gave the students a meal and a presentation. They really went all out to make them feel welcomed," said Owen.
A previous event titled "Arabic and Muslim Culture" focused on what students need to know in order to engage in intercultural interactions with competence and sensitivity. The guest speaker for this event was Mutaz Al Mudaris who works with the Children's Hospital of Philadelphia and the U.S. Department of State as an interpreter. He emphasized the importance of reverence and he spoke generally about what it means to be an Arab, with reference to such things as religion, family, history, music, food, and art. He specifically spoke about interacting with Arab individuals with sensitivity and respect.
"It was definitely an eye opening experience for the students. They get so much more from a speaker than from me lecturing," Owen said of the event.
Owen has a wealth of experience in this field. For the past several years, she has been the Southeastern Pennsylvania Consortium for Higher Education (SEPCHE) diversity coordinator. In addition, she teaches the course Multicultural Issues in Criminal Justice at Neumann.
Students in this class are required to interview someone with a different faith background than theirs and share the experience with the class.
"They really enjoy doing it but they're very leery at first and afraid of saying or doing the wrong thing. We create a safe space in class," Owen said. "I need to teach students how to think critically and be aware of differences in people."
Owen plans to expand the cultural experiences offered to Neumann University students in the spring semester. She is planning trips to a Buddhist Temple and African American churches. In addition, Owen hopes to host a panel of Neumann University faculty and staff who will speak on diversity.
"This all began in my head with the Middle States evaluation. They said we needed to focus more on interfaith dialogue," Owen explained. "It's definitely something that we would like to keep going."
Owen credits colleagues from Neumann University's Mission and Ministry unit, Institute for Franciscan Studies and the Office of Campus Life for supporting all of these programs.
"It's so clear working here that everyone wants more for our students. It's a very supportive environment for faculty and students. The mission is a living, breathing thing at Neumann," Owen noted.
11/14/17