More Than 650 Earn Degrees at Commencement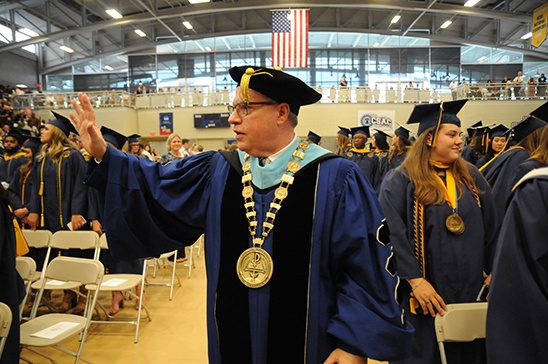 The valedictorian, 11 trailblazing graduates, and two preschool instructors were the stars of the show at Neumann University's Commencement Exercises on May 12. Julia Fair, who won the valedictory medal and three additional awards, walked off the stage with two degrees. Eleven students received the first degrees in Social Work ever awarded by the university. Geneva Alvin and Diane Watson, veterans in the Head Start program, completed eight-year journeys to their bachelor's degrees almost a year after they retired.
In all, Neumann awarded degrees to 654 students. Graduates received 40 doctoral degrees, 167 master degrees, 445 bachelor degrees, and two associate degrees. The 2018 ceremony marked the first time that Dr. Chris Domes, president, officiated Neumann's Commencement Exercises and the first time that the university split graduation into two events. Graduate and adult students received their degrees at 10 a.m., undergraduates at 3 p.m. Both graduations were held in the Mirenda Center for Sport, Spirituality and Character Development.
Dr. Chris Domes, university president, told the graduates that "by following your heart and your passion, you have earned something precious – a Neumann University education." He urged each graduate to "be a leader who lives up to the values you learned here."
Slide Show
Julia Fair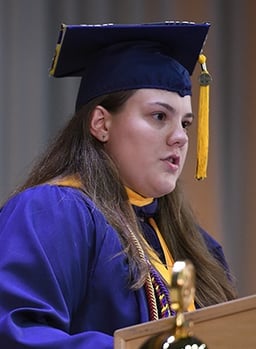 In addition to being named valedictorian, Julia also won the Excellence in Business Administration, John A. Phillips Scholar-Athlete, and Presidential Ambassador Awards. She graduated with a bachelor's degree in Accounting and Business Administration (a double major), and a master's degree in Accounting.
Julia served as captain of the women's ice hockey and golf teams and as president of Delta Mu Delta, the business honor society. Her community service included coordinating a Veterans Wellness Fair with information about PTSD and career development advice, supervising a paper shredding project to support a local pet-rescue organization, and mentoring freshmen students.
During her years at Neumann, she also completed two internships and launched her own coaching business, Knight Way Goaltending. Last winter, she helped lead Team USA to a silver medal in the World Ringette Championships.
In her valedictory address, she shared an emotional memory of her sister, "who had Cerebral Palsy and struggled every day to just lift her head up, yet she never gave up during her life time."
Julia added "There have been many times when I thought that dropping out would be easier, that I couldn't handle all the activities, classes and sports, but I knew I couldn't give up because my sister struggled to do a task that we take for granted. I will never give up thanks to my sister's will, determination, and inspiration."
Social Work Pioneers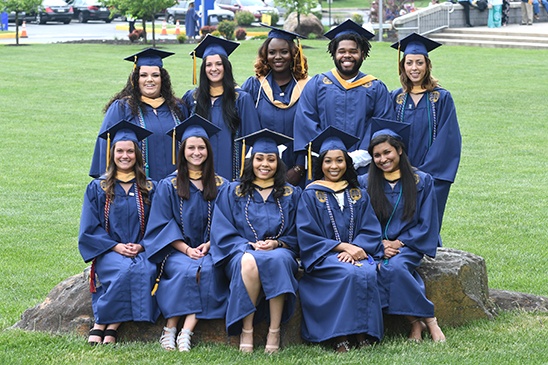 Eleven students received the first degrees in Social Work ever awarded by the university. Neumann launched the program in the fall of 2015 under the direction of Andrea Murphy, program director, and Rina Keller, director of field placement.
The two faculty members provided the leadership, academic instruction and practical experience that resulted in five of the graduates securing full-time jobs in the field and five others gaining admission to graduate school programs by the date of Commencement. During the first three years of the major, Murphy and Keller also achieved program accreditation from the Council on Social Work Education.
The graduates are Donier Cook, Carla D'Angelo, Amirah Guerrero, Kirstin Hilliard, Kezia Mathew, Emma Ross, Laila Sheriff, Nicole Sipp, Nicole Strofe, Christa Thomas, and Michelle Wilson. All are students who were already at Neumann when the program was launched and who changed majors to study Social Work. Seven of the students were inducted in Chi Xi, the Neumann chapter of Phi Alpha, the national Social Work honor society.
"These students saw Social Work as an opportunity and a good fit for them," explained Murphy.
Those opportunities often turned into solid career paths during field placements at organizations like Delaware County Children and Youth Services, Chester Community Charter School, the Domestic Violence Center of Chester County, and Catholic Social Services.
According to Keller, "These field experiences allowed each student to build a resume in a way that's robust."
Geneva Alvin and Diane Watson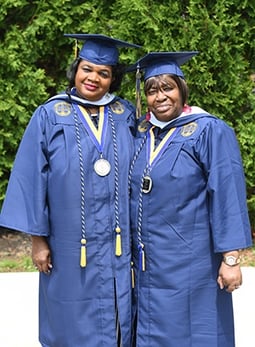 Geneva and Diane have 74 years of Head Start experience between them. They both retired from the Delaware County Intermediate Unit Head Start program in June of 2017. Geneva, 64, had been at the Chester Township site. Diane, 65, worked at the Madison site of the Chester Community Charter School.
Despite leaving the classroom, both ladies decided to continue pursuit of their BS in Education degrees, a journey that they had started in 2010. "After doing all that work, I wanted my degree," Diane chuckled.
"It was all about personal achievement," said Geneva, noting that, after retirement, their motivation was obviously not about promotions or increased salaries.
Their accomplishments were recognized by relatives all along the East Coast. Geneva's mother, brother and sister traveled from Georgia to attend Commencement. Diane's niece came from North Carolina and her in-laws from New York.
The two have known each other for more than 30 years and supported each other on the path to a college degree with good advice, expressions of confidence and reminders that assignments were due. "We went through this whole journey together, and she was my anchor," said Diane, pointing to Geneva.
Honorary Degrees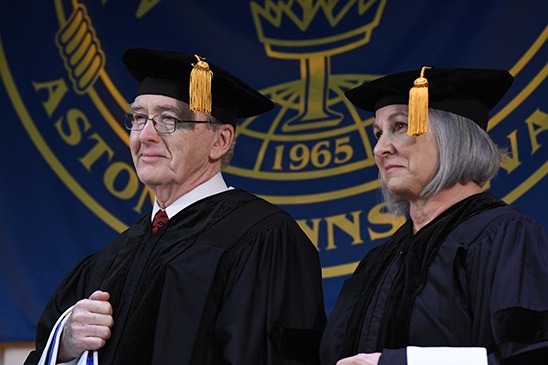 Honorary doctor of humanities degrees were awarded to James and Jacqueline Delaney, each of whom addressed the graduates.
Mr. Delaney told the class of 2018 about a pivotal experience in his life. He broke his neck during a football practice at Monsignor Bonner High School but recovered and returned to the football field the next year.
"My advice for you today: take time to capture and cherish your defining moments because they will tell the world who you are," he said. Mrs. Delaney asked the graduates to remember three quotes.
From George Lucas: "Always remember, your focus determines your reality."
From Bill Gates, "We overestimate what we can accomplish in one year and underestimate what can be accomplished in ten years."
And from Helen Keller: "Think of your life as a hill that must be climbed. There's no correct path to get to the top … At some point, you'll slip, you'll fall, you'll tumble back down again. But if you get back up and keep climbing, I promise you...you will reach the top."
Jim Delaney is a highly respected businessman and committed Catholic in the Philadelphia region. He both leads and serves on many boards in the area, including chairperson of the Board of Trustees at Neumann University. He serves on the National Advisory Council of the United States Conference of Catholic Bishops and the National Advisory Council of the Catholic Leadership Institute.
Jim's business career is equally distinguished. His most prominent work was as founder and president of the national specialty finance firm JG Wentworth, Inc. He is also the founder of a number of health care ventures, including the first free-standing MRI center in Bucks County and the largest ambulance service in Philadelphia.
Upon graduating from the Archdiocese of Philadelphia's Church Ministry Institute in 2006, Jacki began volunteering. She served as ministry coordinator at St. John Vianney parish; board member of Mercy Spiritual Ministries; secretary of the Board of the Philadelphia Chapter of Legatus; member of the Development Committee of Neumann College; chair of the Neumann University Scholarship Gala; and chair of the Archbishop's Benefit for Children.
Jacki and her husband Jim are members of the Philadelphia Chapter of Legatus, Aquinas Society of the Faith in the Future Foundation, and the Equestrian Order of the Holy Sepulcher. They reside in Malvern, Pennsylvania. They have been married for 44 years and have three children. In the morning ceremony for graduate and adult students, Judge Kevin F. Kelly advised the graduates to "Be proud of your professions. Be conscientious in your responsibilities. Be fair in your decision-making. Be judicious in the exercise of your discretion. Be directed by a morality of true justice and be guided by Neumann University's core value of excellence."
Judge Kelly was appointed to the court by Governor Tom Ridge in 2000 and has been elected to ten-year terms in 2001 and 2011. His public service career began in 1985 as a member of the Delaware County District Attorney's Office where he received numerous awards of professional recognition, including being named Outstanding Prosecutor of the Year by the Pennsylvania Criminal Investigators. Prior to leaving the District Attorney's Office to join the bench, he was the chief of the office's Juvenile Delinquency and Pre-trial Divisions, as well as its Drug Enforcement Unit.
On joining the bench, Judge Kelly first served in the family courts and then as the county's juvenile judge. In 2009, he became a member of the criminal courts and has also served as the criminal courts liaison judge. In June 2017, Judge Kelly was unanimously elected as Delaware County's president judge by his fellow judges.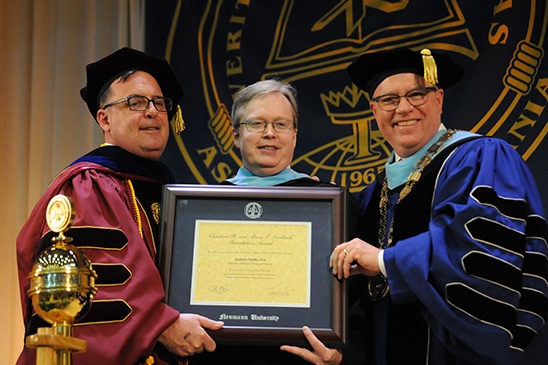 05/12/18