Alumna Crowned Mary from Dungloe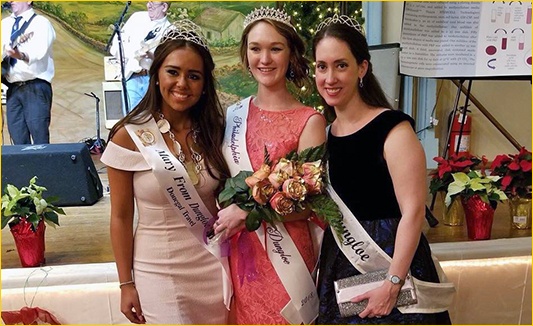 Katrina Terry, a biology major who graduated in May, was named Philadelphia Mary from Dungloe on November 25 at the Philadelphia Donegal Association Ball.
The Philadelphia Mary from Dungloe contest is an Irish heritage competition for unmarried young women between the ages of 18 and 27. Criteria include strong character, connection to the Irish community and personal accomplishment. As the Philadelphia winner for 2018, Terry receives an all-expenses-paid trip to Ireland to compete in the International Mary from Dungloe Festival in County Donegal this summer and a $500 scholarship. She was selected from among eight finalists.
Terry won the title on the strength of her talent (her biology research at Neumann) and her involvement with the Philadelphia Hurling and Camogie club. She has competed in hurling tournaments, traveled to Virginia to vote on changes for U.S. Gaelic Athletic Association (USGAA) rules, and is assisting with the USGAA Finals, which will determine Gaelic football and hurling national championships in Malvern, PA, over Labor Day weekend in 2018.
Her biology research used Platelet Rich Plasma (PRP) as a source to measure platelet-derived growth factor (PDGF). "I drew a tube of blood and separated the PRP. I then compared hematopoietic cell growth in cultures containing PRP to cultures without," she explains. "The importance of PRP is that it can be used for patients who have had a traumatic injury (car accident/burns) or even to help with healing time post-surgery."
A graduate student at Drexel, Terry has Irish roots in County Donegal and Antrim through her mother. She's looking forward to her trip to the 10-day festival in Donegal at which approximately 15 contestants from around the world will compete for the title if International Mary from Dungloe.
She is the second member of the university family to win the award in the last three years. Ciera Travers won the 2016 title as a Nursing major.
The Mary from Dungloe Festival is one of Ireland's biggest, founded in 1967 and named for a young woman, Mary Gallagher, whose sad love story is told in a traditional song, written by Pádraig Mac Cumhaill, a Donegal stonemason, in 1936. A modified version of the song reached the top of the Irish singles music chart in the late 1960s. This success prompted the creation of the festival.
The Donegal Association of Philadelphia is a charitable and cultural organization that was founded in 1888. There are similar chapters in the United States and other countries. According to the association's website, the group formed in the late 1800's to take care of immigrants who were in need of aid and comfort. The vast influx of immigrants during those years prompted the growth of various Irish social societies in the United States.
11/28/17