Meet Three Internship Superstars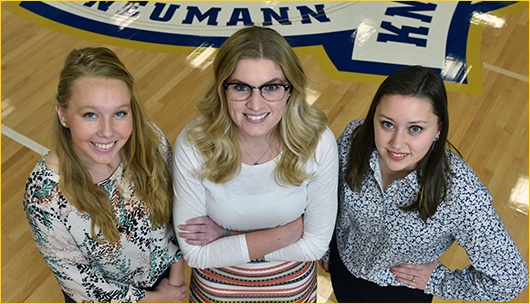 Most colleges require their students to participate in one internship in order to graduate. Neumann University isn't most colleges. In fact, at Neumann, multiple internships are commonplace and even encouraged.
Samantha Butler, Courtney Curcio and Abigail Yusella, three Sport Management majors, have had 10 internships collectively, which by far surpasses the major's requirement of two internships.
Samantha Butler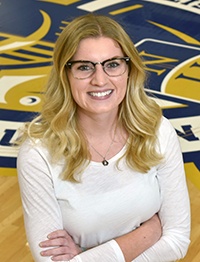 Butler, a junior from West Chester, PA, began her first internship the summer after her freshman year as a game day intern with the Wilmington Blue Rocks, a minor league baseball team based out of Wilmington, DE. The fall semester of her sophomore year, she interned in the community relations/programming department for Access Sports Experiences, a not-for-profit organization that provides inclusive multidimensional sporting opportunities to at-risk and special needs populations in the Philadelphia area. She is currently working for the Philadelphia Flyers as a community relations/fan development intern. With the wide variety of experiences Butler has been exposed to, she has been able to determine what aspects of the industry she enjoys, i.e. community relations, as well as what she doesn't.
Butler was so sure she wanted to come to Neumann University that she didn't visit the campus prior to applying. She knew a student who graduated in three years and landed a job with the Miami Dolphins. She planned to follow in that student's footsteps. "I wanted to keep my head down and be in and out in three years." The sport management program, however, has taught her to become proactive and to want more than just the classroom experience.
"Now I am president of the Sport Management Club, have had three internships and know everyone in the major," she added. Butler mentions that Neumann University is now a marquee name in the region for sport management. This wasn't the case three or four years ago. Thanks to Dr. Julie Lanzillo, assistant professor for sport and entertainment management, and Caleb Mezzy, industry relations and media specialist, Neumann has become a brand name in the industry. Neumann students jumped at the opportunity to volunteer at the 2017 NFL Draft held in Philadelphia in April, and when the Delaware 87ers, an American professional basketball team of the NBA G League affiliated with the Philadelphia 76ers, held tryouts on Temple University's campus, Neumann students were the only students present to help out.
Abigail Yusella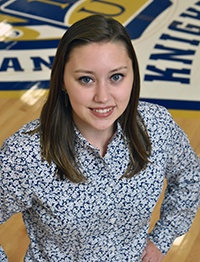 Yusella, a junior from Summit Hill, PA, has had three internships since she started at Neumann. Her first was with the minor league baseball team, The Lehigh Valley IronPigs, running game day operations. Feeling the pressure to secure two internships before she graduated, Yusella held this position the summer between her freshman and sophomore year along with 25 other interns from other institutions, most of whom were in their senior year. This surprised Yusella. "Where is the real experience for these students who are about to graduate?"
The baseball experience opened the door for her next internship in the partnership sales department at the Pocono Raceway, the site of several NASCAR races, which she completed the summer between her sophomore and junior year. Here, her responsibilities increased as she was invited to attend sales meetings and logistics phone calls and even became the contact person for Fan Fair events such as Nathan's Hot Dog Eating Contest.
This fall, Yusella was offered an internship with Comcast Spectacor, a Philadelphia-based American sports and entertainment company, as well as NBC Sports Philadelphia. She deferred the internship with Comcast Spectacor and is currently a marketing intern with NBC Sports Philadelphia where she is assisting with the recent name change (NBC Sports Philadelphia was formerly known as Comcast SportsNet Philadelphia), and the authentic fan program. Yusella credits Neumann's faculty connections with NBC Sports Philadelphia as well as the classroom experience in helping her secure internships. When asked what is the best piece of advice she can offer to other students, Yusella said "Take advantage of all that you can," and she certainly is doing so while at Neumann University.
Courtney Curcio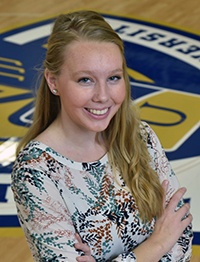 Curcio, a senior from Vineland, NJ, is currently in the middle of her fourth internship as a marketing intern at NBC Sports Philadelphia along with Yusella. Her first internship was with the Philadelphia Union, a professional soccer team based in Chester, PA, working in event operations during her sophomore year at Neumann. During her junior year, she interned as a marketing coordinator at the First Tee of Greater Philadelphia, an international youth development organization introducing the game of golf and its inherent values to young people. The summer after her junior year, Curcio worked in community/player development with the PGA Philadelphia Section.
Even with her busy schedule, Curcio plans to join the University women's golf team this spring. She has learned that golf helps you get ahead in the business industry. "You can meet anyone on the course to pick their ear," Curcio adds, "The course is where you go to close deals, too." With all the experience Curcio has gained through the internships, she is able to create a personalized position description to help her identify what type of job she would be interested to pursue upon graduation. Of course she isn't going to wait until May to find a job. Curcio has her resume ready and is searching for jobs.
All three agree that it is important to have variety of experiences on your resume. "Having a big name on your resume is huge. It gets you the interview, but the other experiences get you the job," said Curcio.
Curcio acknowledges Mezzy for identifying internships and providing opportunities for her to earn positions. She recognizes that in-class preparation plays an important role in landing internships because the sport management curriculum is taught by individuals working in the industry who can provided real-life experience. "Our major is different," said Butler, "It's not about taking tests, it's about gaining valuable experience to use in the real world."
12/4/17