Education Major Competes for
Miss New Jersey Title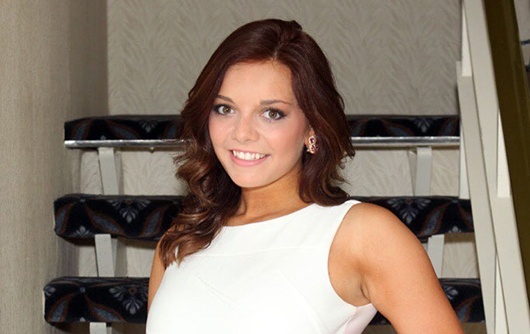 Madison Welsh, a junior early childhood education major, from Westville, NJ, will be vying for the title of Miss New Jersey this June in Ocean City, NJ.
Although the pageant final will be on Saturday, June 16 at 7:30 pm at the Ocean City Music Pier, the quest for the crown began a long time ago for Welsh, who has been a competitor in the Miss America Organization for the past 10 years.
Welsh first started competing in the Princess competition of the Miss America Organization, then graduated to the Outstanding Teen competition in which she holds four titles, and for the past three years has been competing in the Miss New Jersey competition.
To compete for the Miss New Jersey title, a contestant must have won one of 28 local titles. Welsh was crowned Miss Eastern Shore in July 2017 and since then has been diligently working towards the Miss New Jersey crown.
Contestants are judged based on the following categories: talent, evening gown, swim suit, interview, on-stage question, and platform essay. Welsh's talent is tap dancing. She has been dancing since she was two years old and will be performing a dance routine to Michael Jackson's Workin' Day and Night. However, its Welsh's platform issue, S.P.I.N. – Share Positive Instead of Negative, that she values the most.
"This is my approach at making the world a positive environment." Welsh adds, "My hope is that more positivity will bring more smiles to faces across the state of New Jersey and around the world. As individuals, if we can learn to live a positive life, we will find better ways to deal with the negativity that often surrounds us." She promotes S.P.I.N. through a school tour, each visit adapted to the age demographic of the class, and educates her audiences on the proper use of social media as well.
Welsh connects her success with the Miss America Organization to her success at Neumann University because of the similarity of values. "I love that Neumann's RISES (reverence, integrity, service, excellence and stewardship) coincides with the Four Points of the Crown – service, style, scholarship and success. Being a student at Neumann, I am held to the same characteristics valued at Miss New Jersey."
The winner of Miss New Jersey will go on to compete for the title of Miss America in September. Some benefits of the program include: developing life skills (i.e. interview skills, public speaking, interpersonal communication, social interaction, etc.); earning scholarship funds for college and graduate school, regardless of whether a title is won; creating awareness of personal strengths; and increasing self-confidence.
5/24/18