Julia Fair Helps Team USA to Silver in the World Ringette Championships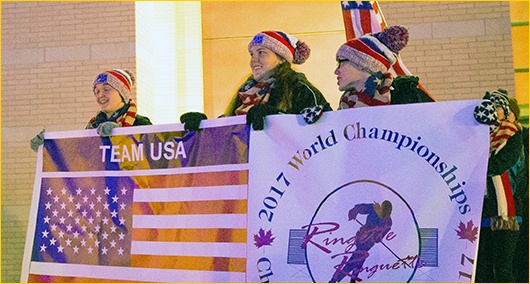 To say Julia Fair is active at Neumann University is an understatement. The senior, a double major in accounting and business administration from Meadville, PA, is a presidential ambassador, president of a student club, and a member of the women's ice hockey team, to name just some of her involvement on campus. But when she was invited to try out for the USA National Ringette Team, the goalie thought, sure, why not?
Ringette, like hockey, is played on ice with skates and sticks with six players per team on the ice at once. The objective is to score goals by shooting a rubber ring into the opposing team's net at either end of the rink during periods of play.
Even though she was unable to attend the first round of try-outs, Team USA was still interested in her after she sent a highlight tape. She was invited to the second round of try-outs. "I have never been so exhausted," recalls Fair after 10 minutes of a scrimmage, "the game moves so fast." Her exhaustion was worth it. Four weeks later, she was offered a position on the Team USA Ringette.
The practice before championship play was held in October. It was fast and furious. Fair spend over eight hours on the ice in a 26-hour period. Team USA scrimmaged against highly competitive Canadian teams, and Fair held her own.
After training camp, Fair switched her focus back to ice hockey. The team was preparing for the start of its season. In fact, she was so preoccupied with ice hockey that she did not play any ringette from mid-October until November 25, which was the first practice for the World Ringette Championship in Mississauga, ON, Canada. It turned out to be a big adjustment to go from ice hockey to ringette. "I had to learn to be more patient, the moves were unbelievable," adds Fair.
Before tournament play started, Team USA played an exhibition game against a highly experienced Finland team. Although the 22 – 0 loss may not reflect it, Fair played better than she expected. She started the game and did not let in a goal until half way through the first period. During halftime, she received a pat on the back from the Finland coach. Fair looks back on that game as a learning experience. "The Finnish do not give up. But, I can compete at international level," she learned.
Team USA was part of the President's Pool that also included Sweden and the Czech Republic. The three teams would play a round robin tournament with a semi-final and final game. Team USA recorded its first tournament win against the Czech Republic. Fair played the second half and recorded a shutout. She felt comfortable and confident on the ice.
The next game resulted in a hard-fought loss to Sweden. Fair started the second half and let in only two goals. She later learned her performance in this game earned her the starting position in the final game. With this win, Sweden advanced to the final game and Team USA would match up once again against the Czech Republic in semi-final play.
Team USA breezed past the Czech Republic in the semi-final with a 15 – 1 victory to advance to the final game.
The championship game was played against an undefeated Sweden. This was the first start for Fair in actual tournament play. And unlike previous games, she played the whole game. Team USA and Sweden battled back and forth for four periods, and Sweden won the game by a point.
Even though Team USA was so close to winning a gold medal, Fair was still pleased with a silver medal in a world championship for a sport she had picked up seven months prior. "I've found new passion, something else to do besides playing hockey," Fair said as she looks ahead to the 2019 Ringette World Championship.
12/26/17