Neumann, St. Joseph High School Reach Guaranteed Admission Agreement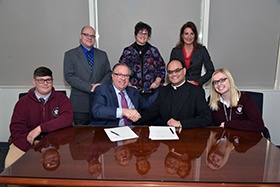 Students from Saint Joseph High School in Hammonton, NJ, will be guaranteed admission to Neumann as full-time matriculated students as long as they graduate; earn a minimum GPA of 3.0 or better; score 900 or better on the SAT; and satisfy university admission requirements.
As part of this guaranteed admissions agreement, Neumann will provide on-site personal admissions counseling and financial aid workshops for prospective students and their parents during the fall and spring recruitment cycles, and award competitive merit scholarships to qualified St. Joseph's students.
These merit scholarships can be worth between $28,000 and $64,000 over a four-year period, depending upon a student's SAT scores and high school grade point average.
Saint Joseph High School provides a comprehensive quality Catholic education that fosters excellence in scholarship, lifelong learning, enlightened citizenship, and moral integrity. The school prepares its students to serve as leaders who will use their Catholic values and education to shape a world of social justice and peace. Saint Joseph High School is in the Diocese of Camden, enrolling 273 students in grades 9 through 12 from Atlantic, Burlington, Camden, Cape May, Cumberland, Gloucester, and Ocean Counties. In 2017, the school graduated its seventy-eighth class.
11/30/17