Strength and Conditioning Experts
Coming on 12/1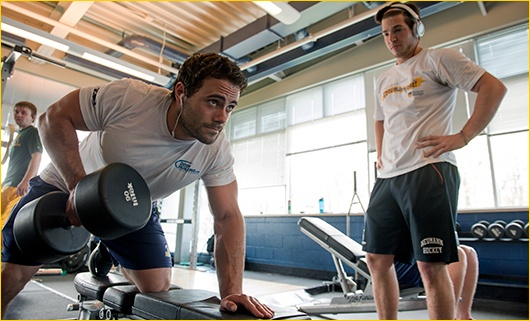 Athletic Training students will have a front row seat as more than 370 professional strength coaches, personal trainers, and athletic trainers from six states discuss current strength and conditioning topics in the Mirenda Center on December 1 and 2.
The Mid-Atlantic Strength and Conditioning Association will host presentations about alternatives to youth sports, the characteristics of successful coaches, the transition between high school and college athletics, how lifestyle patterns can make athletes more resilient, mixed martial arts/football cross training, and other topics from 12-5 p.m. on Friday, December 1, and from 8 a.m. to 5 p.m. on Saturday, December 2.
Among the innovative subjects are:
Mark Nutting's presentation, entitled

Parkour/Freerunning: Alternatives to Youth Sports, will address fitness for youngsters who don't want to participate in team sports. "What happened to free play where we run, jump, roll, climb, and be creative without competition and rules?' he asks. His presentation covers the basics concepts, movements, and progressions necessary to start a youth program.
A group of Philadelphia-area strength and conditioning coaches will host a roundtable discussion entitled

High School Athletes Transitioning to College Athletics. The discussion will address the expectations of off-season training and working with private sector coaches.
In

The Performance Mindset, Zone, and Lifestyle Aspect to Training, Matthew Caldaroni will focus on how athletes can improve on their out-of- sport lifestyle to become more mentally resilient. He will address proper lifestyle patterns that help athletes tap into their performance mindset, or alter ego, and consistently find the "zone" that so few can get discover.
Bruce Lombard will focus on the

MMAFx

(mixed martial arts/football cross training) hand fighting skills training program. This off-season football program aims to increase the football athlete's hand speed, timing, precision, endurance, and confidence through the art of arm trapping.
The group is part of the National Strength and Conditioning Association (NSCA), which disseminates research-based knowledge and its practical application by offering industry certifications, research journals, career development services, and continuing education opportunities. Founded in 1978, NSCA now has more than 45,000 strength and conditioning coaches, personal trainers, professors, researchers, students, and allied health professionals.
For more information, visit:
MID-ATLANTIC REGIONAL CONFERENCE
For more information about Neumann's Health Science program, visit:
HEALTH SCIENCES PROGRAM
11/27/17