Studio Day: Friday, October 20th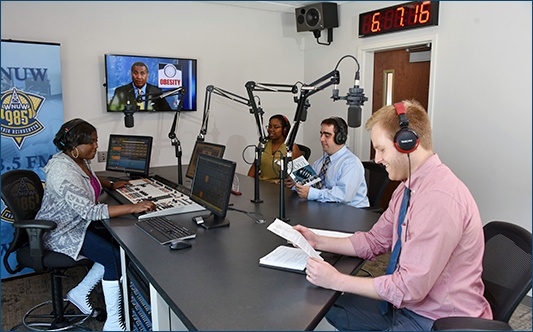 Introduce yourself on WNUW 98.5. Sit in our TV control room and decide which shot you want to see on camera. Get comfortable at our news desk and read from the teleprompter. Enter a song into our radio playlist.
If you're a high school student who can attend Studio Day, you'll get a chance to do all this and more. Studio Day is Neumann University's open house for the new John J. Mullen Communication Center, a studio complex that was built for students interested in broadcasting, social media, communications, public relations, and journalism.
It's scheduled for Friday, October 20, from 5-8 p.m. Tours of the studios run from 5-6 p.m. After a brief welcome at 6 (we won't talk you to sleep), you'll head right into our TV and radio studios for a hands-on experience.
Our equipment is comparable to the technology used by WMMR and Philadelphia TV stations, and we have internship opportunities with many media outlets.
You can reserve your seat at Studio Day right here.
Our Career-Focused Major
The Mullen Communication Center is meant to provide the absolute best equipment and technology to students in Neumann's new Communication and Digital Media (CDM) major.
Our Student Clubs
The studios are also available for those who want to join Neumann Media just for fun. Check out some of the NeuTube videos.
Student EMMY Awards
Since 2012, Neumann students have won three Student EMMY Awards from the Mid-Atlantic Chapter of the National Academy of Television Arts and Sciences. The awards were in the General Assignment News, Public Affairs/Community Service, and On-Air Talent categories.
There are no limits to your success in the field of communication with a CDM degree from Neumann University. Come see for yourself on Studio Day.
10/9/17