Graduate Studies
Post Baccalaureate Certificate in Clinical Laboratory Science
Admission Requirements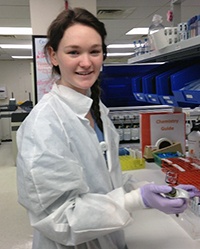 Applicants with a baccalaureate degree with Pre-requisite course work in Human Physiology (4 credits), Genetics (4 credits), Microbiology (4 credits), General Chemistry I and II (8 credits), Organic Chemistry I and II (8 credits), Biochemistry (4 credits), College Algebra, Pre-Calculus or Calculus (3 credits), Statistics (3 credits), Cellular Molecular Biology (4 credits) from a regionally accredited, degree-granting institution who have successfully completed all prerequisite courses are eligible for entrance to the Post-Baccalaureate Certificate in Clinical Laboratory Science, subject to the approval of the Program Director. Acceptance is on a competitive basis after submission of all credentials and an interview. All applicants must submit the following:
A completed

Graduate Student Application, online through

www.neumann.edu.
Official transcripts from all regionally accredited institutions.
Have an undergraduate or graduate GPA of 3.00. Outstanding applicants whose GPAs are less than 3.00 may be considered for conditional acceptance (please refer to the Conditional Acceptance Policy in the Admissions Information section of this catalog.
Resume and letter of intent detailing educational goals.
Two official letters of reference on official institutional letterhead.
Provide results of TOEFL (Test of English as a Foreign Language) from applicants whose first language is from a non-English speaking country or for whom English is a second language. The program requires a minimum overall score of 84 with a minimum score of 26 on the verbal subtest on the Internet-based TOEFL. Applicants may also complete the Cambridge Michigan Language Assessment (CaMLA) MELAB. A total passing score of 81 and a speaking section of 3 is required.
Once all admission materials have been received and processed through the Office of Adult and Graduate Admissions, the graduate Program Director will arrange for an interview, if appropriate, following a review of all candidate credentials.



Contact information

Sandra M. Weiss EdD, MLS(ASCP)CM
Professor and Program Director of CLS
Arts and Sciences
Phone: 610-558-5607
Email: sweiss@neuman.edu