Mary Beth Yount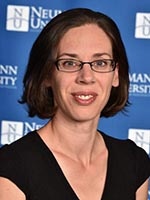 Associate Professor, Theological Studies
BA, University of St. Thomas
MA, St. Mary's University
PhD, Duquesne University
Email: yountm@neumann.edu
Phone: 610-358-4224
Dr. Mary Beth Yount teaches ethics and theology courses at all levels and directs dissertations. Awarded the Benemerenti Medal by Pope Francis, two Catholic Press Association awards, and our own annual scholar's award, she has been named one of "Philadelphia's Most Interesting People" by NBC-10. Her academic and non-profit work has been featured in hundreds of media outlets, both scholarly and popular.
Her research brings an intersectional lens to the dynamics involved in identity formation and roles in politics, societies, families, religions, and cultures. Dr. Yount's current work includes examinations of the ways that relationships, rituals, signs, and symbols contribute to identity formation and communal memory and learning as applied to ecclesiology, justice concerns, and other structural and ethical transformations. Articles, research, and presentations in process include those on church structures and lay ecclesial ministry, religious othering and religio-nationalism, borders and exploitive "civic integration" policies, self-segregating religious communities, and responses of community organizing and interfaith action.
Dr. Yount has been awarded over a million dollars in competitive academic and community grants and fellowships, including from the National Endowment for the Humanities, the American Library Association, the BC Lonergan Institute, several times from the American Academy of Religion, and the Henry Luce Foundation via the Council of Independent Colleges. She has consulted for the United States Conference of Catholic Bishops, three Vatican dicasteries/congregations, three papal visit teams globally, universities and seminaries, and several nonprofit boards.
Publications in 2020-2021 include chapter contributions on identity and the mutually-informing belongings of church members and families (Fordham University Press); migration, hospitality, and sanctuary (Palgrave Macmillan); and the co-responsibility of the laity (Libreria Editrice Vaticana), as well as articles on Rosemary Radford Ruether, John A. Ryan (ABC-CLIO), and privilege and power dynamics in worship (Orbis). You can connect with her on Twitter @DoctorYount.