When you invest in Neumann you invest in our mission, our students and affirm the importance of transformational, Franciscan education.
The Impact of the Annual Fund
Gifts to the Neumann Fund touches the lives of every one of our students, from the mundane to the life-changing, and everything in between. Thanks to generous gifts to the Annual Fund, Neumann provides students with excellent academic resources and financial assistance, as well as the technological upgrades and cutting-edge lab equipment they need to graduate fully prepared for the professional world.
But there is so much more we can do. We want to ensure that no Neumann student drops out because they lack the funds—or the emotional support—to continue. We want to enrich campus life, to magnify the joy and collegiality in our community through sports and other social events. We want Neumann to fulfill its promise as a university that truly cares.
By Credit Card

Did you know that you can sign up to make a regular contribution to The Neumann Fund automatically using your credit or debit card? With our recurring giving program, now you can! Learn more about our recurring giving program.
By Check
If you would prefer to give to Neumann by check, please complete the Giving Form and send your check to:
Neumann University
One Neumann Drive
Aston, PA 19014
attn: The Neumann Fund
Tribute and Memorial Giving
There is no greater honor than honoring or remembering a loved one while supporting the mission of Neumann University. Each year family members, alumni, faculty, students and friends recognize a multitude of significant occasions in the lives of a loved one such as a birthday, anniversary, or Christmas gift. There are numerous ways to honor or memorialize a loved one.
Matching Gifts
Would you pass up an opportunity to double or triple your money? Neither would Neumann! Find out how to double or triple you donation by determining if your company participates in the Matching Gift Program.
Stocks and Securities
Securities can be an extremely advantageous way to give. Such gifts eliminate capital gains tax liability and provide income tax savings. Learn more
Planned Giving
Stretch your giving ability with a planned gift to Neumann University. Learn more about including Neumann in your estate plan or making a gift that pays you back.
For more information, please contact the Office of Institutional Advancement and University Relations at 610-558-5513.
Your gift enriches the student experience, enhances the campus environment, and helps advance our Catholic Franciscan mission and values, making our world a better place.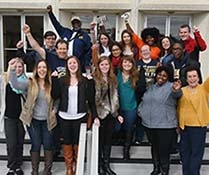 The Neumann Fund includes the Annual Fund, the Scholarship Fund, and the Athletic Fund.
Neumann University was built upon the foundation of the Sisters of St. Francis of Philadelphia. In the beginning, Sisters raised the money to build the college by soliciting funds from the parishes, held bazaars and yard sales, and even recorded an album of their favorite sacred and secular songs to sell for $5 each.
Today, their dream has served thousands of students who have graduated from Neumann University. Alumni, friends, parents and corporate partners continue the rich tradition of giving back to Neumann.
Gifts, in all areas of the University and in varying amounts, enrich the academic and student experience and enhance the campus environment. Every student who embraces the Franciscan values makes our world a better place. Giving makes a difference at Neumann University.
Throghout the year, Neumann supporters are invited to enjoy fundraising events that directly benefit students. From dancing at the annual gala to traveling to another destination for our "Evening In" event to enjoying a round of golf with a celebrity at the Penn Oaks Golf Club, the University's fundraising events provide essential support for student scholarships and the arts. Learn more about the Neumann University Scholarship Gala, our annual "Evening in Event".
Endowment Support is critical for the long-term growth of the University. Increasing endowment is one of the University's priorities as endowment funds ensure greater flexibility in meeting the needs of the University during unsettled economic times. Learn more about the opportunities for named endowment funds such as scholarships and academic awards.
Capital Giving supports major projects and equipment purchases that provide much needed upgrades and improvements to the Neumann University campus. Capital projects are part of the master campus plan and in accordance with the University's strategic plan.
For more information, please call the Office of Institutional Advancement and University Relations at 610-558-5513.
Additional Resources