Study Abroad
Intensive Italian Language Summer Program
Assisi, Italy
Neumann University has partnered with Accademia Lingua Italiana Assisi
to offer university students intensive Italian language courses and an enriching cultural immersion experience, all at a reasonable cost. The setting for this summer language program is the holy hill of Assisi, Italy, birthplace of St. Francis and St. Clare and the Franciscan spiritual tradition.
Program features include:
Intensive 4-week program = 3 Neumann University Italian credits (at appropriate level)
Courses conducted in Italian by native Italian faculty, focusing largely on conversation
Housing, in centrally located, furnished apartments, arranged by the school
One free excursion every week
Location
On a hilltop overlooking the beautiful countryside of the Umbria region of Italy sits the town of Assisi, a UNESCO World Heritage Site. The ancient buildings and narrow, vertical streets give visitors the impression of stepping back in time to the Middle Ages, to a time when the city's most famous residents, St. Francis and St. Clare of Assisi, gave birth to the Franciscan order. Today, Assisi is the site of many a religious pilgrimage due to the movement founded by these gentle saints. More info on Assisi's history and monuments.
The Program
This intensive Italian language program is located in the heart of historic Assisi at a small, private language school named Accademia Lingua Italiana Assisi (ALIA). The school is located at 10 via Tiberio d'Assisi, a short distance from Piazza del Comune and in the vicinity of the Basilica of St. Francis and the Church of Santa Chiara. Housed in a 14th century building, the school was completely renovated in 2006 with a great sense of respect for the history of the building. The classrooms and offices are accessible from a medieval courtyard which has been restored to its original splendor. All the classrooms have air conditioning and are equipped with quick internet and multimedia support systems. The second floor balcony boasts a panoramic view of the entire town and the Umbrian valley. More information on ALIA.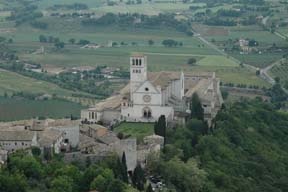 Courses Offered
Italian 101, 102, 201 and 202. Students complete a placement test upon arrival to determine the appropriate language level. All instruction is in Italian and classes are multinational; students from all over the world travel to Assisi to learn to speak Italian at ALIA, including aspiring opera singers. Class sizes remain small (twelve students maximum) and offer students the quality and personalized attention needed to encourage rapid Italian language acquisition. ALIA also provides a variety of cultural activities throughout the program that are designed to provide each student with a deeper appreciation of the culture of the Umbria region of Italy, such as food and wine tastings, walking tours, and concerts. Classes are held Monday through Friday, following this approximate daily schedule: 9:00-11:00am - Review, grammar and conversation practice 11:00-11:15am - Break 11:15am-1:00pm - Review, grammar and conversation practice
Students are free each afternoon and evening to explore Assisi and the countryside of Umbria. Students who successfully complete this four week Italian course will earn 3 semester credit hours from Neumann University.
Housing
ALIA arranges housing for visiting students in furnished apartments in the center of Assisi. There are two students per apartment, however each student has their own room.
Meals and Personal Expenses
All meals are the students' own responsibility. While the most economical option is to prepare meals in your kitchen, ALIA does provide information about several local restaurants that offer meal options to students, starting at 6.50 Euros. Former students suggest you plan to spend between $150 to $200 per week on food, local transportation, postage, laundry, personal expenses, etc. This amount will vary according to students' interests, habits and personal tastes.
Program Staff
ALIA's programs are coordinated by Ms. Gaia Chiuchiù. Ms. Chiuchiù and her staff are readily available to assist students in their transition to life in Assisi, providing academic support as well as assistance with travel logistics and housing.
Air Travel
Students should plan to arrive in Rome (Fiumicino Airport) or Florence on the Sunday morning prior to Monday's start date. Since flights to Europe are overnight flights, plan to depart the US on a Saturday evening to arrive in Italy on a Sunday morning. From the airport, students will have to take two trains to reach Assisi. Neumann's Global Engagement office can assist with the ground transportation logistics.
Qualifications
The program is open to all undergraduate students. The minimum GPA for admission to the program is 2.5. An excellent record of personal responsibility and a high level of maturity are also required. Applicants to ALIA's program should have a demonstrated interest in Italy, a desire to become proficient in Italian, and an openness to learning about Italian culture and society.
Note on Grades: In accordance with Neumann course prerequisite requirements, students must receive a grade of C or better in ITAL 101 to progress to ITAL 102.
Terms available:
Summer. (ALIA offers short-term courses throughout the year, but no semester-long study abroad program is offered here.
Program Dates for 2020: May 4 or 18, June 8 or 22, or July 6 or 20
You may begin your four week program on any of these dates

Program Fees for Summer 2020
Payable Directly to ALIA

Tuition (3 credits)

760 Euros (about $860 US)

Payable Directly to Landlord in Assisi
Housing in shared, furnished apartment

430 Euros (about $490 US)

Additional Estimated Expenses - Payable Directly to Vendor

$165

Airfare

$800 - $1200

Student Visa for Italy

No VISA needed

Textbooks

Included

Supplemental Health Insurance (includes evacuation)

$35

Meals and personal expenses - not including extracurricular travel

$150 - $200/week
Application Procedure – First Steps
1. Apply for a passport
2. Speak with the Global Engagement staff
3. Submit completed Neumann University Study Abroad Form and Student Release Agreement to the Global Engagement office
4. Purchase supplemental health insurance policy and provide proof of insurance to Global Engagement.
5. Complete ALIA's on-line enrollment form six to eight weeks before anticipated program start date. In the message section, please write 'Neumann University student.' Tuition is due prior to arrival in Assisi. Rent can be paid on site in Assisi.
For Students from Other US Colleges & Universities
Students from other US colleges and universities who successfully complete this four-week intensive Italian program are eligible to receive Neumann University transfer credit. Visiting students must complete the program registration steps below and pay a Non-Matriculated Application fee to Neumann University prior to the program start date. This fee is $100 per credit hour attempted, or $300 per course. Upon successful completion of the program, Neumann University will send one formal transcript, as part of your application fee, to the visiting student's home institution. This transcript will list course name and level, credit hours and grade received.
1. Complete ALIA's on-line enrollment form six to eight weeks before anticipated program start date. In the message section, please write 'Request transcript from Neumann University.' Tuition is due prior to arrival in Assisi. Rent can be paid on site in Assisi.
2. Email Neumann University's Global Engagement Coordinator (contact info below) to request a 'Non-Matriculated Application & Registration Form' and Student Release Agreement
3. Complete form and mail back to Global Engagement Coordinator, along with a check (payable to Neumann University) for the Non-Matriculated Application fee ($100/credit hour) and signed copy of the Student Release Agreement
4. Purchase supplemental health insurance policy and provide proof of insurance to Global Engagement
5. Submit the above documents to Global Engagement at least one month prior to program start date
For more information contact:
Jen Mintzer
Global Engagement Office
Neumann University
1 Neumann Drive
Aston, PA 19014
Telephone: 610-358-4547
Fax: 610-361-5475
E-Mail: mintzerj@neumann.edu