Honors Program
NU Honors Program Presents the LEAD Conference
Thursday, April 26, 2018

Presentations 2:40 – 4:30 p.m.
Bachmann Main Building, Room 315

Posters 4:30 – 6:30 p.m.
Life Center, Student Multipurpose Hall

All are invited!
View the LEAD Program
What is LEAD?
LEAD is an academic conference for Neumann University students, staff, faculty and administrators. The goal of LEAD is to establish connections between student and staff who share common interests, with the hope of cultivating working relationships that will help to advance the mission of Neumann University.
What does LEAD stand for?
LEAD stands for Learning, Exchanging, Achieving and Discussing. These are the pillars of all academic works. By learning, we strive to exchange our ideas and opinions with others. By exchanging these ideas, we achieve success in our fields. Once we achieve success, we continue to discuss our works so we can pass our knowledge to the next generation.
What is the format?
Two options are offered: a select number of oral presentations, and a poster symposium. Oral presentations will follow a format similar to that of TED talks. Sessions are scheduled between 2:40 and 4:30 p.m. and will feature three or four presenters, each of whom will have 10 to 15 minutes to speak. At the end of each session, the audience is encouraged to ask questions and to continue the conversation.
The poster symposium is designed to allow participants to provide a visual overview of their work, and to offer the opportunity to discuss their work in a less formal setting than that of a conference-style presentation. Participants will display posters in the Student Multipurpose Hall of the Bruder Life Center from 4:30 to 6:30 p.m., and will be on hand to discuss their work.
Who can attend LEAD?
The entire community is invited to attend.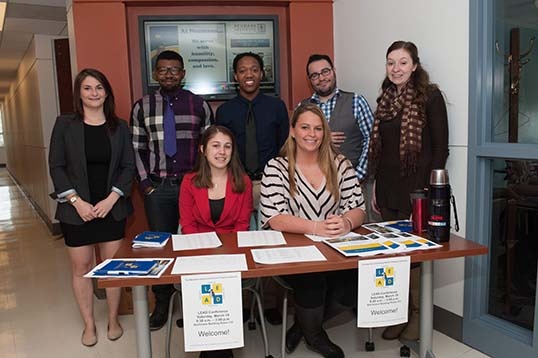 For more information, contact:
Dr. Richard Sayers, Coordinator of the Honors Program
sayersr@neumann.edu
610-361-5454