Conference and Event Facilities at Neumann University
The Neumann University Department of Conferences and Event Planning has a multitude of spaces to offer. If you are looking to host a company meeting, retreat, sports or other camps, summer resident events, large conference, smaller luncheons, or private parties, Neumann has unique and updated spaces to offer. Whether you need a conference room, classroom, lecture hall, or multipurpose space, we can accommodate your requests.
Neumann prides itself on being a one-stop shop for all conference needs. From the room or venue rental to media service needs, parking, and catering, we are happy to help you plan your event. Catering can be provided by our Sodexo Campus Dining Services, or you may arrange your own catering.
Rocco A. Abessinio Building and the Health Sciences Center
Included in this space are modern meeting rooms equipped with board tables, audio-visual capabilities, and easy access to rest rooms and to concessions at Twelve @ the RAB. In addition, a fireplace lounge is centrally located among these rooms, allowing for easy and convenient breaks. This area allows for coffee and refreshment breaks, as well as luncheons and receptions.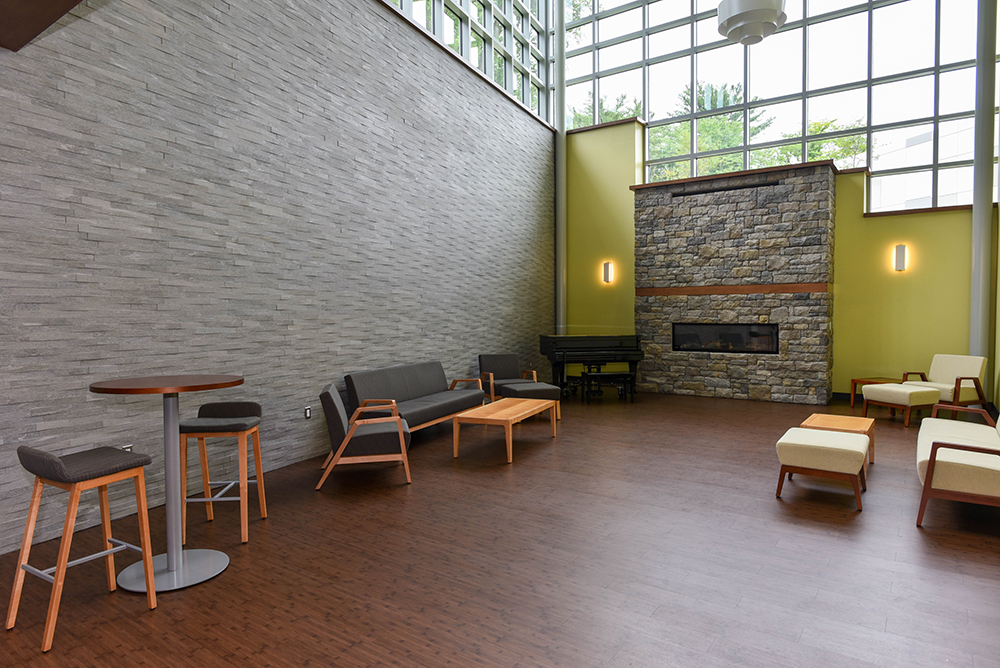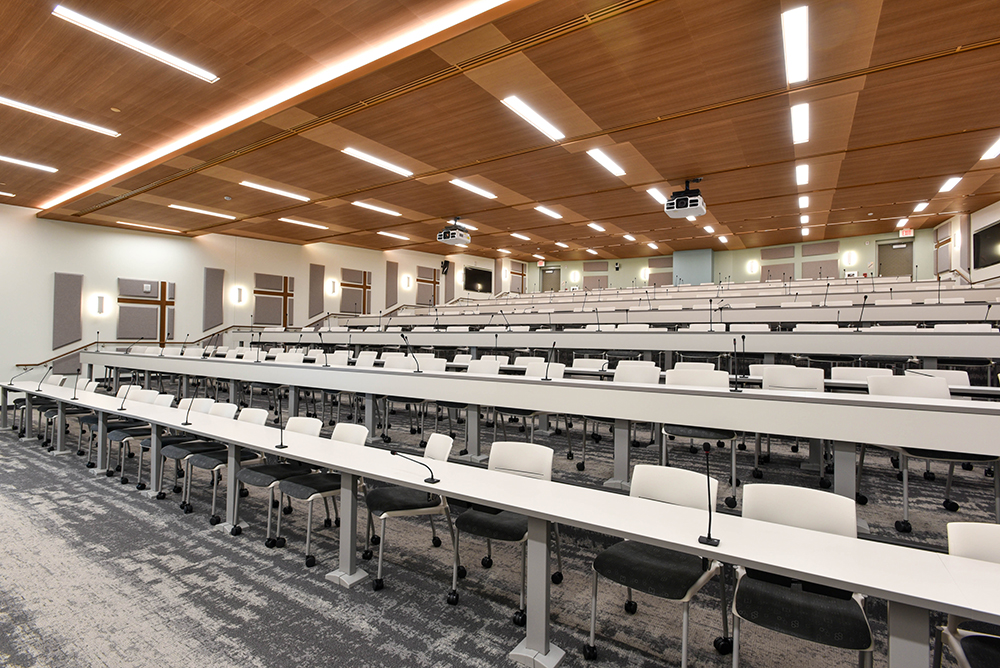 Thomas A. Bruder, Jr. Life Center
The McNichol Art Gallery is equipped with overhead lighting, projector, projection screen, and computer with internet access. Accommodations can be made for groups of 10-50 people through a variety of set-ups.
The Student Multipurpose Hall located in the John J. Mullen Communication Center offers a multi-use space that can be set to your preference. This space can accommodate up to 150 guests and includes two large projection screens, two projectors, and two tv screens all powered by our state-of-the-art audio visual system. This room is perfect for all day conferences, meetings, and private parties.
The Fred P. Meagher Theatre is a modern, fully equipped, 300-seat theatre which can provide excellent facilities for lectures, drama, cinema, concerts, and other theatrical events. It houses a large stage, costume and dressing rooms, a projection room outfitted with state-of-the-art lighting and sound systems, as well as workrooms with large access doors for theatre use. Lectures and meetings are enhanced with comfortable table arms, excellent acoustics, a variety of multi-media services, and continental seating for comfort and visibility.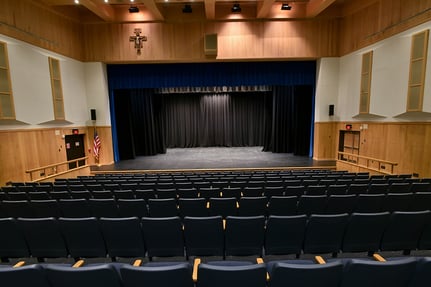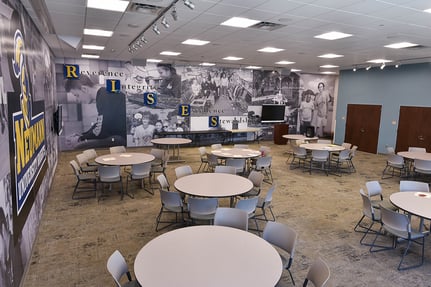 The Sora Luna Lounge is conveniently located in Flynn Hall. This room accommodates up to 85 people and provides a chic coffeehouse atmosphere. Floor-to-ceiling windows, overhead lighting, kitchen area, small stage, and a new sound system are just a few of the many amenities of this room. The Sora Luna Lounge is available during the summer months.
The Mirenda Center for Sport, Spirituality and Character Development is Neumann University's elite athletic facility that has 72,000-square-feet of flexible use space. The main gymnasium is designed not only for recreational and game activities, but it can also be transformed into space for commencements, convocations, conferences, and meetings. Another unique space located in The Mirenda Center is the 6,800-square-foot Community Hall, a multi-purpose facility for groups.
Fields: We also offer a new state-of-the-art turf field (soccer, lacrosse, field hockey) softball field, baseball field, and a large grass field for sporting events and camps.
If you are interested in holding a summer camp, we are the place for you!
During the summer months, we not only offer meeting and recreational spaces on campus, but also updated, air-conditioned rooms in the residence halls and newly renovated dining facilities. We are a perfect location to host a camp or overnight conference.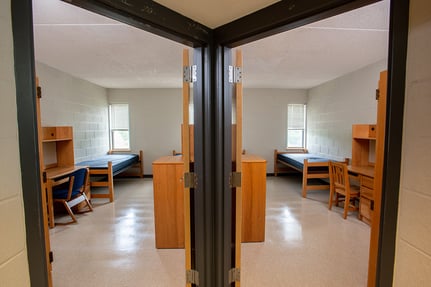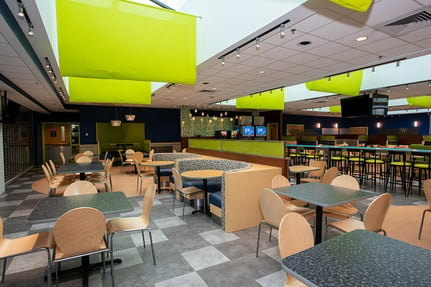 To find out more about our room availability and capabilities, dining options, and audio-visual equipment, please contact Jessica Webster, Executive Director of University Events and Conference Services, websterj@neumann.edu or 610-558-5587.