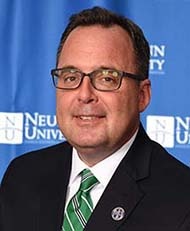 Lawrence DiPaolo, Jr., Ph.D.
Vice President for
Academic Affairs
Office: 610-558-5507
Email: dipaolol@neumann.edu
You.
Everything we do in Academic Affairs centers upon you, the Neumann University Student. From your first class at Neumann until that moment you walk across the stage at Commencement, the Office of Academic Affairs will be focusing all of our energies to ensure that you are exceptionally prepared for your future.
We pride ourselves on an approach to learning which is characteristically Catholic and Franciscan as well as being uniquely personal. Whether you are taking classes on the Holy Hill or in one of our many online programs, you will develop certain habits not only of the mind but also of the heart. We will help you develop the intellectual skills which will allow you to succeed as well as the moral reasoning and discernment to ensure that the life you live after Neumann University is a life properly oriented in the service to others. Every class you take, every aspect of your academic career, is rooted in our core values, known campus-wide by the acronym RISES, for respect, reverence, integrity, service, excellence, and stewardship.
Whether your goal is an exciting career directly following graduation or further study, the Office of Academic Affairs will prepare you for whatever path you decide to take.
We offer a wide array of excellent degrees within the Arts and Sciences, as well as highly regarded graduate and undergraduate degree programs within our integrated professional divisions: Education and Human Services, Nursing and Health Sciences, and Business and Information Management. In addition we take great pride in our Adult and Continuing Education (ACE) program, which has graduated hundreds of successful adult learners since 1974.
We invite you to explore Neumann University and see how exciting a uniquely personal education can be.
Dr. D.
Lawrence DiPaolo, Jr., Ph.D.
Vice President for Academic Affairs