Welcome from the Dean...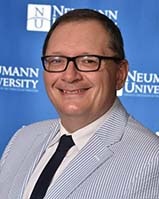 Dr. Alfred G. Mueller II
Dean
Arts & Sciences
Welcome to the School of Arts and Sciences!
As an undergraduate at Neumann University, you will get to experience the richness that our school offers in a number of ways. First, as a new student, you will participate in INT 101: The Neumann Experience. I am confident that this course will help you to determine the academic path that uniquely fits your personality and talents. Next, because Neumann University is a liberal arts institution, you will participate in the Neumann University Core Experience. Required of all undergraduates at Neumann, this sequence of courses—mostly housed within the School of Arts and Sciences--will help you to develop your knowledge and skills and offer you experiences that facilitate change and personal growth. Lastly, as a junior or senior, the school offers you the opportunity to explore a variety of majors and minors as well as a few specialty programs.
Majors
Arts Production and Performance
Biology
Biology - Clinical Laboratory Science
Communication and Digital Media - NEW!
Criminal Justice
English
Liberal Arts
Political Science
Pre-Law (3+3 with Widener University)
Pre-Med
Pre-Pharmacy (2+4 with Duquesne University)
Psychology
Minors - for further information about minors learn more here .
Art
Biology
Chemistry
Communication & Digital Media
Criminal Justice
History
Intelligence Studies
Journalism
Literature
Mathematics
Modern Language
Music
Musical Theater
Natural Sciences
Philosophy
Political Science
Psychology
Theater Arts
Writing
In addition to majors and minors, the School of Arts and Sciences offers students academic opportunities through such specialty programs as Pre-Pharmacy, Pre-Law, Pre-Medicine, and the Honors Program.
If you have any questions or would like more information about any of our programs, please do not hesitate to contact me or any member of my office. Give us a look, and I am sure you will find a program of study that truly inspires you!
Sincerely,

Dr. Alfred G. Mueller II
Dean of the School of Arts and Sciences