Faculty & Staff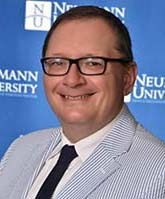 Dr. Alfred G. Mueller II
Dean
BA's in Communication, History, Philosophy, Wilkes University
MA in Communication Studies, University of Iowa
PhD in Communication Studies, University of Iowa
610-558-5508
muellera@neumann.edu
Dr. Mueller has taught undergraduate courses in the university classroom for twenty years. This classically trained rhetorician is a nationally and internationally recognized scholar, having served as a Fulbright Scholar in Armenia and as a member of a Ford Foundation bridging project studying the relationship between Russia and the Caucasus. Prior to coming to Neumann, he served as Program Coordinator of Letters, Arts, and Sciences at the Mont Alto campus of Penn State University and as Chair of the Department of Communication Studies at Mount St. Mary's University. He and his wife Lusine live in Garnet Valley with their son Jacob.
CONTACT US
The Office of the Dean of Arts and Sciences will be open 9:00 a.m. to 3:30 p.m. daily, M-F.
Meetings may be held in person or via MS Teams.

Email Dr. Mueller

directly for a Teams meeting with several days and times that work best for your schedule.
Sr. Corinne Wright will be available for meetings on Monday and Tuesday in the office, but will be working virtually otherwise.
All inquiries should be directed to Elaine Hills, Secretary of the Faculty, at ehills@neumann.edu or 610-558-5634.