ALPHA SIGMA LAMBDA
Founded in 1946, Alpha Sigma Lambda is the country's oldest and largest chapter based honor society. There are hundreds of chartered Alpha Sigma Lambda chapters throughout the country, including the Epsilon Tau Chapter at Neumann. Alpha Sigma Lambda recognizes and fosters scholarship and leadership among adult and non-traditional undergraduate students. It inspires its members to give of their strengths to their fellow students and communities through their academic achievements.
On April 9, 2015, at D'Ignazio's Towne House in Media, PA, eleven students were inducted into the 2014-2015 class of the Epsilon Tau Chapter of the Alpha Sigma Lambda National Honor Society for achieving and maintaining the highest scholastic standards.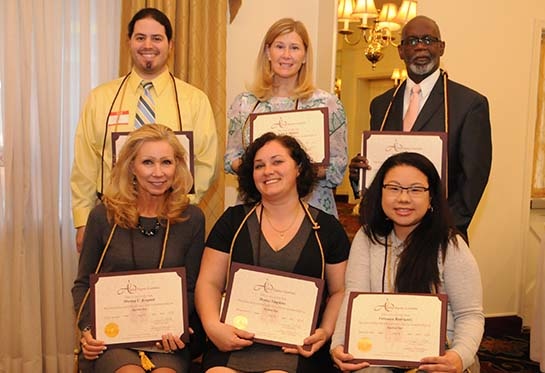 Standing (left to right): Dean Turturici, Lori A. Heeney, Robert G. Peterson, Sr.;
Sitting (left to right): Martha C. Krupiak, Denise Simpkins, Veronica Rodriquez
Not pictured: David Gallagher, Jocelyn McCandless, Alyssa Milano,
Simone Molotsky and Susan Pascoe

The School of Business named Martha C. Krupiak as the recipient of the 2015 Tau Award as the Outstanding Graduate in the Adult and Continuing Education Program. The Tau Award is granted to the top graduating student in one of the degree programs offered by the School of Continuing Adult and Professional Studies. The Award, first bestowed in 1988, is the premier award for adult learners at Neumann University and is based on the highest cumulative grade point average and total number of credits earned at Neumann. Ms. Krupiak graduated in December 2014 and was officially recognized at the Academic Awards Convocation on April 24, 2015.
---
Previous Tau Award Recipients
2014 Tau Award Recipient
Brian Concannon
2013 Tau Award Recipient
Denise Chain
2012 Tau Award Recipient
Lora Lee Lichtenstein