Staff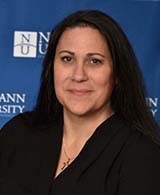 Jilian Donnelly, Ed.D.
Executive Director
610-361-5261
donnellj@neumann.edu
Dr. Jilian Donnelly currently serves as the Executive Director of the Adult and Continuing Education (ACE) unit at Neumann University. With more than two decades of professional experience in higher education, her breadth of knowledge in adult learning, adult development, student services, and career transition, provide strong foundations for her dedication to serving adult learners and the belief in lifelong learning.
As a curriculum developer, instructor, advisor, and career transition coach, Jil has focused her research interests on First Responder degree completion as well as retired elite athletes, both in the context of adult learning and adult development. Her dissertation was entitled, Understanding Educational Choice Processes of Retired Professional Hockey Players. As an Assistant Professor, Jil teaches both Research Techniques, and Writing for the Professions, in the online adult degree completion programs. She began her career with Neumann in 2004 as an academic advisor, Director of Virtual Learning, and then as Dean before assuming her current role. Prior to Neumann, she held a senior position in the financial aid office at Drexel University.
Jill holds a Doctor of Education and a Master's of Education in Educational Administration with a focus in Higher Education from Temple University. She also earned a Bachelor of Arts from Cabrini College where she double-majored in History and Political Science. Additionally, she is a certified Job and Career Transition Coach.
---