Education
Early Learning Studies and Professional Development
for Early Childhood Educators
The Pennsylvania Promise for Children campaign has pledged resources to improve the quality of early childhood education programs throughout the state. Some of the initiatives that are in place include: PA Pre-K Counts, Keystone STARS and the creation of Office of Child Development and Early Learning (OCDEL) as well as the PA Keys.
Each of these programs follows specific guidelines that are linked to the PA Early Learning Standards. Financial incentives encourage participation from Early Childhood and Head Start Programs. Stipends are provided to successful applicants for educational materials, health and safety improvements and professional development.
Training is a key ingredient as well as a requirement to successfully reach each step of the program lattice. The required training ranges from workshops to understanding the rating scales (ITERS ECERS SACERS FCCERS). Issues such as Work Sampling, First Aid and Fire Safety are addressed. Finally, opportunities for the Child Development Associate National Credential (CDA), the PA Directors Credential or degree completion are provided.
The Division of Education and Human Services at Neumann University is committed to assisting early childhood practitioners throughout the region in meeting these professional development standards. The result will be high quality early childhood educators and a developmentally appropriate experience for all children!
Programs and Services To Meet the Needs of the Early Childhood Practitioner
Child Development Associate (CDA) Credential:
The CDA is a national credential awarded to an individual who has demonstrated his/her competence to meet the needs of children and to work with parents and other adults to nurture a child's physical, social, emotional, and intellectual growth in a child development framework. This national credential is recognized as an important building block to improve the quality of child care. The CDA Credential provides a knowledge and skill base that enables an individual to meet the social-emotional, cognitive, and physical development needs of children. CDA classes are held at Neumann's Aston and Phoenixville campuses.
Community Partnerships
As part of our effort to meet the needs of the full time Early Childhood Practitioner, Neumann University has partnered with several Early Childhood Centers to offer ECE courses at their locations. This allows college to be more accessible. Often these courses are set up in cohorts making it easier for the practitioner to become more comfortable with their peers. Currently Neumann University is offering evening courses in ECE at the DCIU Education Services Center in Morton, PA.
Credit for Prior Experience
Neumann University offers transcript review for ECE practitioners, as well as credit for previous experience and coursework. We also have an articulation agreement with several local colleges to make the process of completing your degree at NU more streamline. Mentoring and PRAXIS prep support is also offered for ECE practitioners.
Keystone STARS
Neumann University Child Development Center is a premiere Early Childhood program and serves as a laboratory school for Neumann University education students. In operation since 1973 on the Neumann University campus, the CDC is part of the Keystone STARS program and the Program Director, Mary Ann Melisi, is a Neumann graduate and a PQAS certified Early Childhood Professional Development Instructor.
Rising STARS
Neumann University is proud to participate in this tuition assistance program provided by Keystone STARS and OCDEL by offering discounted tuition to qualified applicants. Renew your CDA, or directors credential, increase your status on the PA Career Lattice. Or work toward an A.A., B.A., or M.S. in Early Elementary Education. Courses are offered in accelerated format in the evenings and on Saturdays to accommodate the working ECE professional. For more information on how to apply to the Rising STAR's program.
For more information about any of these programs, please contact
Mr. John L. Sperduto at sperdutj@neumann.edu or call him at
484-368-1090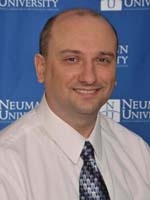 Project Coordinator: Mr. John L. Sperduto
John Sperduto has been a part of the Neumann family for more than 30 years, first as an undergraduate student in the 1980's, as adjunct faculty member since 2005, and now as an Early Childhood Specialist and Rising STARS program coordinator. His experience as an educator includes teaching in public and parochial schools and more than 15 years as owner and administrator of two early childhood development centers. He has been a PA Certified Professional Development instructor for more than 15 years and has taught hundreds of professional development workshops and in-service trainings to professional early childhood staff all over the Delaware Valley. He has also provided dozens of Child Development Associate classes to hundreds of CDA candidates.
Mr. Sperduto is the co-founder of the Child Care Professional Network, a PA 501c3 nonprofit organization established in 1999. CCPN has grown to more than one thousand members strong. CCPN and its membership work hard to promote the importance of Early Childhood Education. He also works as a consultant and mentor to PA licensed early childhood programs.