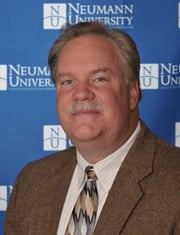 It is my sincere pleasure to welcome you to Neumann University. The campus has been a very special place for me for the past 17 years and I am certain that you will find it to be an enjoyable and rewarding experience.
As the Dean of Student Academic Services, I would like to extend a warm Franciscan welcome from all the staff in the John C. Ford Student Success Center @ The HUB. It is our mission at the University to make sure that each student is provided the resources and the opportunity to be successful. Our Academic Advisors, Academic Coaches, Tutors, Administrators and Student -Workers, are all committed to your success.
The work is yours to do, but a team of dedicated professional staff are ready to assist you on your journey. After all, University life is hard work, but it can be a lot of fun too.
Take a few minutes to explore the support resources listed below that are available through the Student Success Center to all students and do not hesitate to call upon me if you have any questions.