TRiO/SSS Program
Financial Aid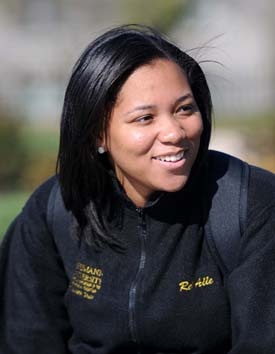 Your first stops for financial aid assistance are the TRIO Office and the Financial Assistance Office, 151 BMB.
The cost of attending Neumann University varies depending on your resident or commuter status, your major, extracurricular activities, meal plan selected, and your full or part-time status.
For your total costs, check your Financial Aid Award Letter.
You can find Neumann University's tuition, room and board, and fee schedule for the 2019-2020 academic year.
FAFSA
You must fill out FAFSA forms every year to determine the amount of financial assistance you will receive for the following year from the federal and state government and from Neumann University. To fill out your FAFSA, go to https://fafsa.gov and log in using your Federal Student Aid ID (FSA ID). Both you and your parents will need an ID, to sign the FAFSA. If you are a dependent student, you should complete the FAFSA using your parents' income tax information. Independent students should use their tax information. If possible, upload your 2018 federal income tax return to your 2020-21 FAFSA application by using the IRS Data Retrieval Tool found in the FAFSA application. Using the IRS Data Retrieval Tool will reduce your likelihood of being selected for verification. Applications are accepted online after October 1, 2019. For more information about filling out the FAFSA go to https://studentaid.ed.gov/sa/fafsa/filling-out. To receive state grants, Pennsylvania residents must complete their FAFSA by May 1, 2020 and Delaware residents must complete their FAFSA by April 15, 2020. The FAFSA will be forwarded to the state in which you live.
Neumann Awards
Neumann Merit Based Academic Scholarship
The Neumann Academic Scholarship is based on your SAT or ACT scores and high school GPA. Your award will not increase over the amount you receive in your freshman year and may even be reduced if your Neumann University GPA falls below a 2.0. Neumann University will decide the amount of your internal scholarships or grants.
Neumann Housing Grant
You will receive the Neumann Housing Grant every year as long as you live on campus and remain in good academic standing.
Federal and State Grants
Federal Grant
Pell Grants are intended for students with the most financial need and are based on your Estimated Family Contribution (EFC) from your FAFSA. The maximum you can receive for AY 2019-2020 is $ 6,195. To learn more about this grant, go to https://studentaid.ed.gov/sa/types/grants-scholarships/pell. Based on your EFC, you may also receive a Supplemental Educational Opportunity Grant (SEOG). If you receive a Pell Grant, you are eligible for an SEOG. You do not have to pay back grants.
PA State Grant
Pennsylvania Higher Education Assistance Agency (PHEAA) grants are available to Pennsylvania residents with financial need. The state government has its own formula for determining grant amounts. For AY 2019-2020, residents and commuters may receive up to a maximum of $4,122. To learn more about this grant, go to www.pheaa.org. You do not have to pay back grants.
Federal Loans
You may be eligible for one or both of these low-interest direct loans from the federal government. Eligibility is determined from your FAFSA.
1. Direct Subsidized Loans - The federal government will pay the interest on these loans while you are in college. Amounts are based on credits earned.
| | | |
| --- | --- | --- |
| For AY 2019-2020, if you have earned: | 0-29 credits: | you may receive $3,500 |
| | 30-59 credits: | $4,500 |
| | > 60 credits: | $5,500 |
2. Direct Unsubsidized Loans - With a subsidized loan, you may also qualify for an unsubsidized loan for up to $2000. If you do not qualify for a subsidized loan you may still qualify for an unsubsidized loan. You can pay the interest on an unsubsidized loan throughout college or have it deferred. To find out more about these loans, go to www.studentaid.ed.gov.
Other Loans
Parent Plus Loans
To qualify for a Parent Plus Loan, your parent must have good credit. The Parent Plus Loan may be repaid immediately or deferred until six months after you graduate.
If your parent is denied the Parent Plus Loan, you are then eligible for an additional Direct Unsubsidized Loan based on college credits earned.
| | | |
| --- | --- | --- |
| For AY 2019-2020, if you have earned: | 0-59 credits: | you may receive $4,000 |
| | > 60 credits: | $5,000 |
Alternative Student Loan
Alternative Student Loans come from private lending institutions. You can apply for the loan in your name but you must have a co-signer. You and your co-signer must have good credit. Interest rates on these loans may be higher than your federal direct loans. To compare alternative private loans, go to www.elmselect.com.
Tips
Understand that your financial aid award letter may change if your FAFSA is incomplete.
Check for your and your parents' electronic signature on the FAFSA before submitting.
Check your email for a notice from the federal processor if your FAFSA is complete.
Double-check with the university one month after filing your FASFA.
Respond to any message from the federal or state government. Take the message to the Financial Assistance Office if you do not understand it.
Try to pay interest on your unsubsidized loans while you are in college.
Keep track of your loan amounts.
Know how much debt you will be repaying after graduating.
Understand that filing for bankruptcy will not discharge your loans.