TRiO/SSS Program
Grant Aid Award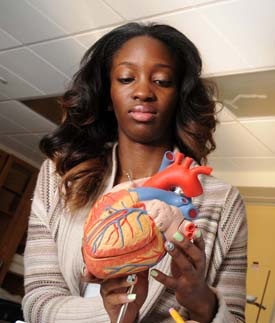 TRIO Grant Aid is funded by the U.S. Department of Education and is awarded after mid-term grades are registered during spring semester. The goal of grant aid is to help reduce unmet need or loans, helping TRIO participants stay in school and graduate. This award is meant to supplement and not supplant existing scholarships and grants.
Grant Aid Award Eligibility
You may be eligible for TRIO Grant Aid at Neumann University if you meet all of the following requirements:
Receive a Pell Grant;
Have been accepted and are fully participating in the TRIO Program for one full semester;
Participate in the TRIO Program by attending all scheduled counseling, recommended workshops, and tutoring sessions;
You are required to meet with your academic counselor at least once a month and you may be required to meet more frequently. The program also considers any counseling and tutoring session cancellations and no-shows.
Are enrolled as a part or full-time, first or second year student;
Meet the federal standards for academic progress;
Maintain your semester GPA at 2.5 or above at midterm with class grades of C or above;
Maintain your cumulative GPA at 2.5 or above at the end of each semester with grades of C or above in all classes;
Be enrolled or intend to enroll for the following academic semester;
Renew your goals and your agreement each semester with your TRIO academic counselor; and,
Pass the CashCourse financial literacy online course.
At its sole discretion, the TRIO Grant Aid Committee may waive any of the above requirements. Due to limited funding, TRIO grant aid is not guaranteed for all eligible students. Award recipients will be notified by university email.
If you receive a TRIO award, you agree that the award will:
Be applied first to any outstanding tuition balances owed to Neumann University; and,
Be applied second to your present educational loan indebtedness by reducing unsubsidized federal loans. TRIO grant aid does not award refunds.
Grant aid is non-renewable and you will need to comply with all eligibility requirements in subsequent years to again be considered.