Commitment to Diversity, Equity, and Inclusion
As a Catholic University in the Franciscan Tradition, Neumann recognizes and cherishes the dignity of each person regardless of age, culture, faith, ethnicity, race, gender, sexual orientation, language, ability, or social class.
Read More *Expand/Collapse
Our Catholic tradition and Franciscan charism at its best seeks to be inclusive and our mission invites us to be a community that promotes a deep sense of respect and reverence for the dignity of all persons. Our policies and practices, our curricular and co-curricular offerings, and our welcoming and caring campus environment reflect our commitment to a diverse and inclusive academic community dedicated to promoting social justice for all. This commitment to diversity and equity ensures that we can achieve excellence by promoting a culture of learning, listening, and understanding. Each member of the Neumann University community is expected to treat every person with care and respect, to embrace humility in the interactions with others, and to value and treasure differences. This commitment is central to our shared Catholic Franciscan values.
A Vision for Institutional Diversity, Equity, and Inclusion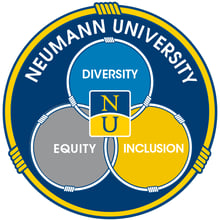 Grounded in our Franciscan RISES values of Reverence, Integrity, Service, Excellence and Stewardship, Neumann University actively promotes a diverse, welcoming, and inclusive campus community. Our vision advances a diverse and inclusive campus environment in which all community members enjoy mutual respect and are actively engaged in the life of the university. This active engagement leads to intellectual growth, spiritual formation, personal development, and leadership experiences for all members of the University community. Realizing this vision more fully will lead to meaningful relationships on campus and with diverse communities beyond our boundaries. To these ends, through the leadership of the Diversity, Inclusion, and Equity Council, the President's Advisory Council on Diversity, Inclusion and Equity, and in collaboration with the entire Neumann community, the University will implement and support the following objectives:
Support and empower all members of our community to speak out against discrimination in all forms.

Contribute to the richness and vitality of campus life by recognizing and celebrating the various backgrounds, traditions, and experiences of individuals within our campus community.

Strengthen culturally affirming practices, policies, and organizational structures.

Cultivate a safe community rooted in a culture of consent and mutual respect.

Provide opportunities for education and leadership around issues of diversity, equity, and inclusion for all members of our campus community.

Connect Neumann University to diverse local, regional, and global communities, organizations, and educational institutions.

Foster greater equity and social justice on our campus, in our community, and in our world.