Study Abroad
St. John's University - Rome, Italy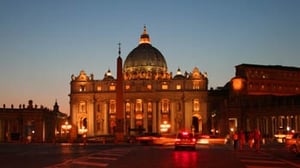 Location: Rome
Spend a full semester at St. John's University's campus located in the heart of Rome, the breathtaking "Eternal City" where history lines every street. While there, you'll conduct an in-depth exploration of Italian history, language and culture, using the distinctive academic resources of this remarkable city.With Rome as your classroom, you can practice for Italian classes while chatting with locals in the markets, cafes and churches. You may prepare for your Art History exam by sketching the masterpieces of Bernini in the Piazza Navona, or by exploring the baroque architecture and frescos of St. Peter's Basilica.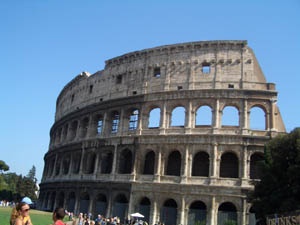 St. John's University
St. John's is a Catholic university founded in 1870 by the Vincentian Community, located in New York City. St. John's maintains branch campuses in Rome and Paris, where semester-long study abroad programs are offered. Academic Program
All courses are taught in English, except for advanced foreign language courses. Each semester, St. John's Rome campus offers courses in:
Anthropology
Art & Art History
Economics
Ethics
International Business
Italian Language
Philosophy
Political Science/Government
Theology
Qualifications
You must complete at least one year of full-time undergraduate study at Neumann University and must generally have a minimum 2.75 cumulative GPA to apply.
Accommodations
Students will be housed in the centrally located Collegio Leoniano.
Collegio Leoniano Housing
Via Marcantonio Colonna, 21A
00192 Rome Italy
At the Collegio Leoniano, you benefit from the outstanding residential and academic resources of a world-class Catholic university within walking distance of central Rome and Vatican City.
Our newly renovated facilities offer students the wonderful opportunity to experience Rome with many of the comforts of home.
Facilities include:
A fully wired computer lab with printers
Double and triple rooms
High-speed wireless internet
Air-conditioned rooms
Beautiful courtyard and common spaces
Full time bilingual residence life staff, including residence directors and assistants
24-hr security along with key card entry to the building
Shared microwave and refrigerator on
each floor for food preparation and storage
Historic Prati, a picturesque district rich in beautiful architecture, is a vibrant community just north of the Vatican in central Rome. Here students can live as locals, gaining an understanding of cultural differences between Rome and the United States. With Vatican City just a short walk away, the Piazza del Popolo, Piazza Navona, and Castel Sant'Angelo are all within your reach. At St. John's Rome campus, you will truly live among the Romans
Meals and Personal Expenses
Students receive two meals per day during the week. Other meals, including all weekend meals, are the students' own responsibility. Self-catering facilities are provided in the residence kitchens. Former students suggest you plan to spend between $150 to $200 per week on food, local transportation, postage, laundry, theatre visits, personal expenses, etc. This amount will vary according to students' interests, habits and personal tastes. Further information to help you plan a budget will be provided in orientation materials.
Terms available: Fall or spring semesterTerm Dates: 3rd week of August – mid-December (fall),
2nd week of January – 1st week of May (spring)
Application Deadlines: April 15 for Fall semester, October 1 for Spring semester
Program Fees

Payable to Neumann University

Tuition (12 -15 credits) & Housing

Neumann Tuition & Room fees

Included in the above fee: Tuition, accommodations, two meals per day on class days, orientation and student support services.

Additional Estimated Expenses - Payable Directly to Vendor

$145

Airfare

$800 - $1100

Visa Fees

No charge

Permesso di Soggiorno

155 Euros

Textbooks

$200 - $300

Supplemental Health Insurance

Included

Lunches and personal expenses - not including extracurricular travel

$150 - $200/week
Application Procedure – First Steps
Apply for a passport
Speak with your Advisor
Speak with the Global Engagement staff
Complete Neumann University Study Abroad Form
Complete the St. John's Course online application form.
Deliver all documents to the Global Engagement office, along with an official copy of your transcript (available from the Registrar for $5) by the application deadline listed above.