International Studies Education
Study Abroad
St. John's University
Paris, France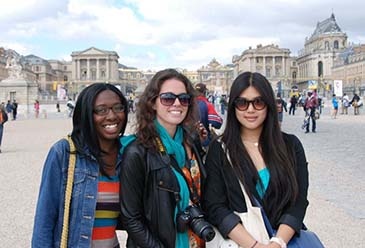 Imagine yourself studying in Paris, one of the great European political capitals! The 'City of Lights' is the ideal place for you to begin (or continue) your study of political science, and the French language. Through this extraordinary program you can experience firsthand the magical city that has inspired poets and revolutionaries alike over the centuries.


| | |
| --- | --- |
| | |
| | |
| | |
| | |
| | |
| | Neumann student Michael Martin filmed this video while in Paris, Fall 2009 |
This program will allow you to taste the unique character that is Paris - including excursions to places like the Louvre, the Musee d'Orsay, and to the nearby Chateau de Versailles. During the semester, you will also enjoy several excursions targeted at taking advantage of the program's proximity to the political workings of Europe. These include trips to places like Strasbourg and Brussels, with visits to centers of today's European Union.

St. John's University
St. John's is a Catholic university founded in 1870 by the Vincentian Community, located in New York City. St. John's maintains branch campuses in Rome and Paris, where semester-long study abroad programs are offered.


Academic Program
Within this new program you have the option to take a selection of courses over the entire semester or within a modular five-week program. All courses are taught in English.

Each semester, St. John's Paris campus offers courses in:


Art History

Economics

French Language

Political Science

Philosophy

Theology
Consult course descriptions here.

Qualifications
You must complete at least one year of full-time undergraduate study at Neumann University and must generally have a minimum 2.75 cumulative GPA to apply.

Accommodations
The newly renovated St. John's University Paris is located in the popular St-Germain district of Paris, also known as the 6th arrondissement. The campus is situated within a six-story structure containing approximately 20,000 square feet of mixed residential, classroom, and office space. You will be living just across the street from the Vaneau metro stop and within walking distance of the Musée d'Orsay, Musée du Louvre, Jardin du Luxembourg, Cathédral de Notre Dame and the Musée Rodin.


The building features:
• A fully-wired computer lab with printers for student use

• Spacious meeting rooms and student lounge

• Bilingual staff, including a Residence Director and resident assistants to assist you with your needs

Room accommodations include:
• Two single beds, wardrobes and study desks per room (one per student)

• Linens provided for your use during your stay

• Air conditioning in each room

• Wireless internet access throughout the building

• Digital phones

• In-room sinks, with shared full bathroom facilities on each residence floor

• 24-hour security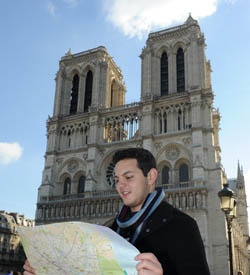 Meals and Personal Expenses
Students receive 8 meals per week in the building's own cafeteria. You will receive 4 breakfasts, and can choose to eat either lunch or dinner for your other 4 meals. Other meals are the students' own responsibility. Former students suggest you plan to spend between $150 to $200 per week on food, local transportation, postage, laundry, theatre visits, personal expenses, etc. This amount will vary according to students' interests, habits and personal tastes. Further information to help you plan a budget will be provided in orientation materials.

Terms available: Fall or spring semester

Term Dates: 3rd week of August – mid-December (fall),
2nd week of January – 1st week of May (spring)

Application Deadlines: April 15 for Fall semester, October 1 for Spring semester

Program Fees

Payable to Neumann University

Tuition (12 -15 credits) & Housing

Neumann University Tuition & Room fees

Included in the above fees: Tuition, accommodations, eight meals per week, orientation and student support services.



Additional Estimated Expenses - Payable Directly to Vendor



$145

Airfare

$800 - $1100

Visa Fees

$175

Textbooks

$200 - $300

Supplemental Health Insurance

Included

Lunches and personal expenses - not including extracurricular travel

$150 - $200/week
Application Procedure – First Steps


Apply for a passport



Speak with your Advisor



Speak with the ISE staff



Complete Neumann University Study Abroad Form



Complete the St. John's Course online application form.



Deliver all documents to the ISE office, along with an official copy of your transcript (available from the Registrar for $5) by the application deadline listed above.