International Studies Education
Study Abroad
SAIIE
Seville, Spain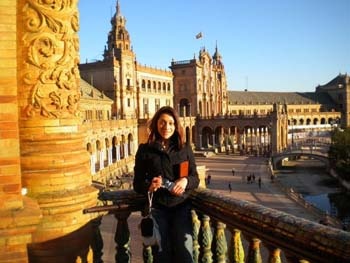 | | |
| --- | --- |
| | |
| | Learn more about this program! |
| | |
Few cities in the world are as historic and charming as Seville. It was once the major seaport of the nation, through which were funneled the treasures of Spain's huge 18th century empire in the New World. The city contains some of the most important architectural monuments in Spain. Seville is at the center of Andalusia, a region synonymous with music, bullfights, and fiestas. To the north of Seville lies Córdoba, one of the most magnificent centers of Arab civilization; Cádiz is to the south and Granada is to the east. Today, Seville is a modern, progressive city of nearly one million people, with art galleries, museums, concert halls, libraries and athletic facilities.
SAIIE
The Seville Program is based at SAIIE (Spanish American Institute of International Education), and the University of Wisconsin – Platteville serves as the US school of record. The facility is located in the heart of old Seville and is surrounded by shops, restaurants, and cafés. Beyond the Institute, all of Seville is a "classroom" twenty-four hours a day. You can view the facilities here.

The program combines academic programs through the University of Seville and EUSA, field trips, intercambio partnerships, internships, volunteering opportunities, athletic programs and home-stays into a coherent, total package. In the Liberal Arts and International Business Track, students study about Spain while living in Spain so that the classroom experience complements, reinforces, and enhances the intercultural experience.


Academic Program
Students study Spanish language on the appropriate level and take the remainder of their courses in Spanish or in English, depending on their level of fluency. Students may concentrate on Liberal Arts or International Business, or they may take courses from both areas. Liberal Arts courses are offered in English and in Spanish, while International Business courses are offered only in English. Spanish language, conversation and composition courses are available on all levels.

The Intensive Language Track is designed for students on the beginning and intermediate levels who want to focus solely on the acquisition of Spanish. Students cover four levels of Spanish (16 credits) in sequence, so it is not possible to take liberal arts or international business courses at the same time. However, the semester calendar parallels the calendar in the Liberal Arts/International Business Track so that students can participate in the optional field trips if they wish.

Whether in the Liberal Arts/International Business Track or in the Intensive Language Track, every student is assigned an intercambio partner, a native Spaniard with whom the American student meets at least once a week to practice conversational Spanish and to learn about the culture.

Classes are held Monday-Thursday, with Friday-Sunday available for field trips and independent activities.

All programs with Universidad de Sevilla and EUSA are run in partnership with SAIIE. Classes will take place at both SAIIE and the relevant partner institution.
To view more information (course list, descriptions, syllabi, activities, etc) on each program SAIIE offers click on each title below:

Spring and Fall Programs
SAIIE - Universidad de Sevilla: International Studies and Contemporary Hispanic Studies (Language Requirement: No prior knowledge of Spanish required.)

SAIIE - Universidad de Sevilla: Liberal Arts, Business and Spanish Language and Culture (Language Requirement: 5 semester college – level Spanish.)

SAIIE - Universidad de Sevilla: Advanced Spanish Language and Culture(Language Requirement: 6 semester college – level Spanish.)

SAIIE - EUSA: Communication, New Media, Journalism and Tourism(Language Requirement: 6 semester college – level Spanish.)

SAIIE: Intensive Spanish Language (Language Requirement: 2-3 years of high-school Spanish or 1 semester college – level Spanish.)

Qualifications
Students who are sophomores, juniors or seniors at the time of application are eligible to apply. A minimum GPA of 2.5 is required for admission by the program, but Neumann University requires you have a 2.75 GPA to apply to all study abroad programs.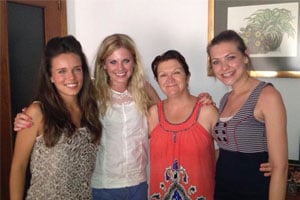 Housing & Meals
Just as the curriculum is specially designed to maximize your experience in Seville, so, too, living in a Spanish home is an integral and equally important aspect of your intercultural experience. Students are placed in carefully screened Spanish homes, usually in pairs. In the Spanish home, you will have breakfast and mid-day meals Monday through Friday and evening meals Sunday through Thursday. Each student is allowed 1 load of laundry per week, which is washed by the host family. Naturally, adjustments with regard to customs, food, and heat must be anticipated.

Terms available: Fall, spring, summer, or academic year

Term Dates: 1st week of September – 2nd week of December (Fall),
2nd week of January – 1st week of May (Spring)
Application Deadlines: April 15 for Fall semester, September 15 for Spring semester

Program Fees


Payable to University of Wisconsin - Platteville

Application Fee

$35

Payable to Neumann University

Tuition (12 -17 undergraduate credits)

Neumann tuition and fees

Included with tuition fee: home-stay with most meals, ISIC card, CISI health insurance, orientation, computer lab, two loads of laundry per week, services of resident director and a few educational field trips

Note: Fluctuating dollar exchange rates and inflation may necessitate a moderate increase in the total program cost as the departure date approaches.

Additional Estimated Expenses - Payable Directly to Vendor

$145

Airfare

$800 - $1000

Textbooks

$0

Visa Fee

$160

Weekend meals & personal expenses - not including extracurricular travel

$100-150/week
SAIIE Scholarships
SAIIE offers Neumann students a chance to win scholarships each semester ($1500 for a fall or spring semester, $300 for a summer session, $500 for both summer sessions, $300 for winter session).
Learn more about the Scholarships.

Application Procedure – First Steps