International Studies Education
Study Abroad
Why Study Abroad?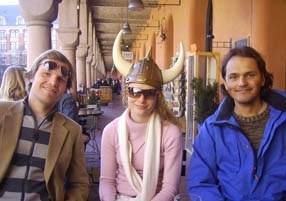 In addition to the numerous personal benefits listed below, your community and our world have much to gain from your cross-cultural experience. Study abroad is grassroots diplomacy at its best, promoting the exchange of ideas and understanding between American students and citizens of the host country. Take advantage of this remarkable opportunity to get to know another culture in-depth and to be an ambassador for peace; representing your country and Neumann University.
Benefits of Study Abroad


Earn academic credit towards your degree program with pre-approved courses.



Learn another language or improve your existing language abilities.



Gain a competitive edge in the job market or for graduate school. Employers and admission counselors are looking for confident, mature candidates with knowledge of other cultures and peoples, proficient in a second language, with ability to adapt to new situations.



Re-energize your desire to learn.



Gain a new perspective on your field of study.



Experience a different culture or the culture of your ancestors.



Increase your understanding of world events and gain a different perspective on the US, politics, history, and economics.



Explore your career aspirations and discover new passions and interest areas.

Misconceptions of Study Abroad

1. I can't afford it.
You may be surprised to learn that many study abroad programs cost the same as a semester spent at Neumann. Talk to your International Studies staff. Your financial aid may apply, and scholarships and loans may be available. Start thinking about possible funding sources early so you will be able to do all the things you want while overseas.


2. I don't speak another language.
All of the Neumann University study abroad programs offer the option to take courses in English and to study the language for the first time in the host country. You have a variety of choices, so take the time to meet with an advisor to find which overseas program best fits your interests and goals.


3. I won't be able to graduate on time if I study abroad.
Meet with our International Studies staff, as well as your faculty advisor, to discuss an academic plan for a semester abroad and for your remaining semesters at Neumann. Planning is the key to making sure you can fit everything in during your college years.


4. My campus leadership and athletic activities won't allow me study abroad.
You should talk with your coach/student activities office about the option of being away for a semester. If an entire semester is not possible, consider studying abroad when it will interfere less with your activities (i.e., summer term).


There are ways to deal with any and all roadblocks that you see in your way, and the International Studies Office at Neumann is here to help.

For more information, contact:

International Studies Education
610-358-4595