San Damiano Program
Week-long service immersion experiences, both domestic and international, are offered over fall break, spring break and during the summer. Each trip includes a formation experience beginning in November and continuing up until the date of the trip. Throughout the formation experience, group members will meet with their group for cultural education, reflection, team building and fundraising.
Fall Break Service Trip
In celebration of Franciscan Mission Week, first-year have the opportunity to serve on Habitat for Humanity's fall break Collegiate Challenge trip - building or refurbishing a home alongside the family who will eventually reside in it.
Spring and Summer Break Trip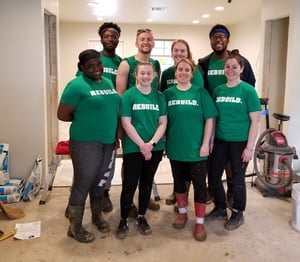 Habitat for Humanity - Lafayette, La & Beaufort, SC
Over spring break, there will be two Habitat for Humanity Collegiate Challenge Trips. At the end of the spring semester, another group will have the opportunity to participate in Habitat for Humanity's Collegiate Challenge, building or refurbishing a home alongside the family who will eventually reside in it.
Valley of Angels - San Jose El Manzano, Guatemala
Partnering with the Franciscan Mission Service (FMS), a group will head just outside Guatemala City to serve at the Valley of Angels orphanage and boarding school. Founded by the Franciscans of the Immaculate Conception Province, Valley of Angels provides housing, meals, clothing and schooling to children in poverty. Participants of this trip will work with the FMS long-term volunteers to provide tutoring, after school activities and assistance with various other timely needs.
Wind River Indian Reservation - Wind River Region, Wyoming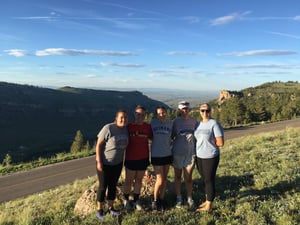 Continuing Neumann's longest standing service immersion trip, a group will head to the Wind River Indian Reservation of the Arapaho and Shoshone tribes where they will work with Sr. Teresa Frawley, OSF at 3 different parishes in the Wind River region. At the three parishes, they will help Sister with various upkeep projects including yard work, painting, cleaning and organization. Participants will also have the opportunity to experience cultural practices of the Arapaho and Shoshone tribes.
Assisi Pilgrimage
Neumann students have the opportunity to participate in a week-long pilgrimage of Assisi, Rome and various sacred places associated with St. Francis and St. Clare of Assisi. Participants from Neumann will join participants from other Franciscan universities across the country for this unique Italian tour and spiritual experience. Like the service immersion trips, there will be a formation and fundraising period beginning after the application and selection process and leading up to the time of the trip.
Knights In Action
Curious about what our alumni do after graduating from Neumann University? Check out our Alumni page to see where our alumni in Post-grad years' of service are!