Philadelphia General Hospital Endowed Nursing Lecture Series
Established in 2005, this endowed lecture series within Neumann University's Division of Nursing and Health Sciences focuses on the nursing profession by presenting topical issues of interest to nursing alumni and the community. This lecture series is open to Neumann and PGH alumni, students, faculty, staff, parents, and the community.
About PGH
During its 92 years of operation, the Philadelphia General Hospital Training School for Nurses graduated 6,000 professional nurses. Graduates wore the double frill cap, known as the Blockley Frill, which is an enduring symbol of the prestige and reputation of nurses who performed the art and science of nursing service and education. The last patient was discharged from Philadelphia General Hospital on June 16, 1977.
Save the Date The Fourteenth
Annual PGH Lecture
Saturday, October 12, 2019
Topic: Good Grief: A Hero's Journey Through Grief and Loss
Speaker: Cheryl A. Barrett, RN, MSN, NC-BC
Register in Fall 2019 by emailing Colleen Graf '15 at grafc@neumann.edu

Support the Lecture Series
Your gift in support of the PGH Nursing Lecture Series will ensure that valuable lectures continue to be offered to our nursing community and beyond.
Visit The Neumann Fund giving page to make your gift.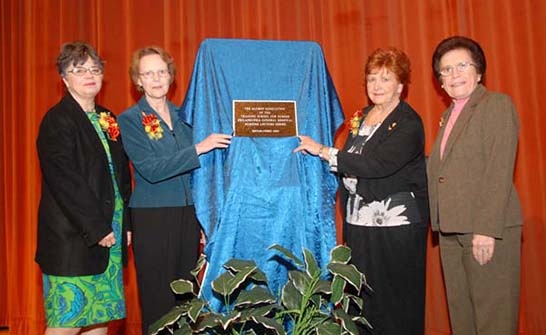 Inaugural PGH Nursing Lecture Series
Pictured from left: Dr. Sandra Davis, Inaugural Speaker; Dr. Kathleen G. Hoover, Dean, Division of Nursing and Health Sciences; Jeanne Kiefner, President, Philadelphia General Hospital Alumni Association; Dr. Rosalie M. Mirenda, President, Neumann University.