Spring 2022 Update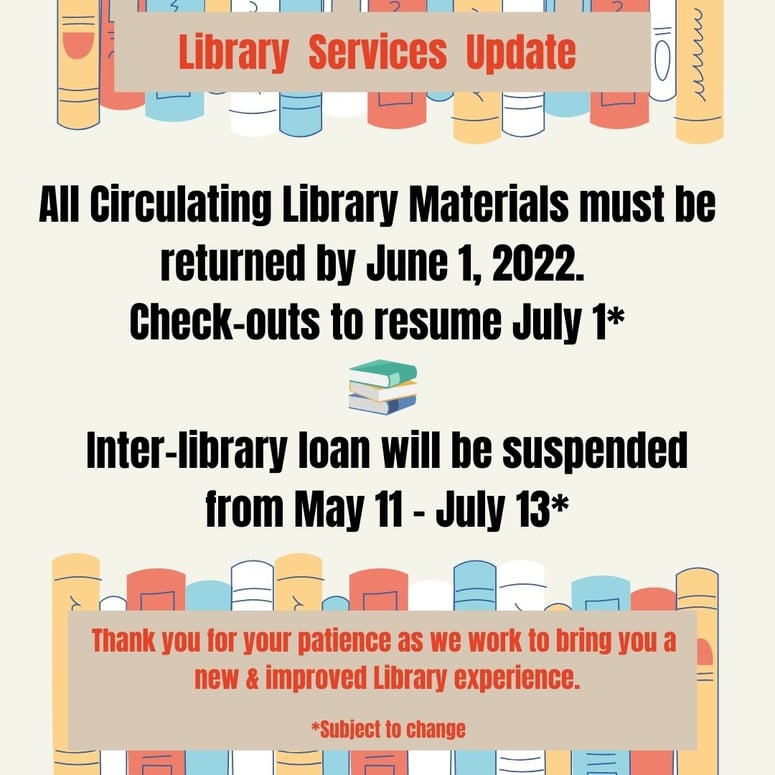 We have made some changes for Spring 2022 in an effort to bring you a more expansive range of safe services and spaces! Longer service hours, additional seating, the return of printing, and many flexible spaces are among the adjustments. Read on for more details.
Special thanks to those students who provided us with feedback to make these changes possible. We really do appreciate our survey takers and respect your comments.
Library Space:
Neumann university library is your spot this semester for getting things done in a safe and socially distanced environment. Neumann students, faculty & staff wishing to use the library will have access to 75 seats. Seats are first come first served and are located mostly in either designated Quiet Independent Study or Conversational Group Study Zones. Additional seating can be found at our computer stations or as part of our Group Study Rooms.
All seating has been arranged with patron safety in mind and should not be moved or altered.
Outside guests will not be permitted to use the Library at this time.
We ask all library users to partner with us in keeping healthy! Please make use of the cleaning products provided to sanitize workstations upon arrival. Masks are not required at this time.
Group Study Rooms:
Four (4) Group Study rooms return for student and faculty use this semester and will accommodate up to four (4) students at a time. Groups are encouraged to use their best judgment and guidance from the university and CDC with regard to vaccinated and non-vaccinated students working closely together in a confined space.
Room reservations are required; click the "Book a Room" button for more details and to reserve your room.
Printing:
Printing has returned to the Library. A copier/ printing center has been created to reduce overall print costs and limit noise pollution in the Library space. Helpful handouts for new users can be found near all public library computer stations and nearby to the copier/ scanner/ printers. Print-jobs can be retrieved from the Library machines or any other Find-Me printer locations (Open Lab, Mailroom, RAB 1st and 3rd floors). All print-jobs will need user-authorization, so please have your Neumann ID handy.
Check-outs:
Stack browsing and on-the-spot check-outs will return this semester. Pressed for time? Members of our community can still take advantage of contactless pick-up and submit their requests here: https://www.neumann.edu/academics/library/contactless-pickup
Returns:
All returns to the library should be deposited in the book drop outside our main doors.
Reserves:
Faculty should contact Lisa Schilling to arrange for placement of course reserves schillil@neumann.edu
Reference:
Pop in for a virtual chat, use our online scheduler for a phone or video session via Microsoft Teams, or email us today at library@neumann.edu
Interlibrary loan:
Inter-library loan services will still be provided, but users should note that many libraries we are accustomed to borrowing from may still be experiencing service disruptions or have borrowing restrictions in place. Please allow for additional time and/ or contact a librarian for assistance in locating alternative sources, library@neumann.edu
Research & Instruction:
Please contact Maureen Williams to schedule research instruction williamm@neumann.edu
Supplies & services temporarily modified for your safety:
Supplies such as pens, highlighters and earphones will be distributed while supplies last; Please keep what you take.

Food is prohibited at this time.
Welcome back! Isn't it great to be Re-u-Knighted?! May your semester be successful and as always may you remain #NeumannStrong.
Mission Statement
The mission of the Neumann University Library is to support and enhance the academic curriculum, our Catholic Franciscan mission, identity and core values, and the educational goals of the University. The Library develops and maintains a varied collection of resources and promotes information literacy standards within the University community.
The Collection
The Library has thousands of print books and ebooks, several thousand electronic and print journal titles, and a growing collection of multimedia items including films and audio books.
Access to tens of thousands of online journals, magazines, and newspapers are provided by the Library's numerous database subscriptions.
Access to all of our databases is available for current students, faculty, and staff. These databases are also available off campus, using a Neumann user name and password.
Contact us anytime by email at: library@neumann.edu or click below to chat with a librarian. (610) 558-5545.
Summer Chat Hours:
M-Th: 1 - 8
Friday: 10 - 1


The Curriculum Resource Collection contains a strong selection of curriculum materials and children's books, including the winners of the Frances and Wesley Bock Book Award for Children's Literature.
The Library has an ever-growing Popular Reading Collection that features both current best sellers as well as classics and cult favorites.
Library Catalog
Our holdings, both print and ebooks, are available by searching the library's online catalog, which is available both on and off campus via the Library Catalog link.