Neumann University's Graduate Programs in Education
Master's, Certifications, and Endorsements
If you're looking to sharpen your competitive edge and make yourself indispensable in the industry — you are in the right place.
Whether you're already a certified teacher or whether you're looking to enter the field of education, Neumann University offers several respected and flexible graduate education programs that will help you cultivate and enhance your skills across a variety of school environments.
Let's explore how getting a master's degree in education could serve as a launching pad for your dream career in the education field.
Further, according to the National Council on Teacher Quality
88%
of "larger [school] districts in the country … offer an increase in pay to teachers who earn master's degrees."
So, if you think that teaching is the right career path for you, it makes sense to earn a graduate degree and take advantage of the opportunity to earn more money from the very start of your career.
National Average Salaries for Educators and Administrators
Special Education Teachers
$61,000
K-12 Principals
$96,000
Elementary School Teachers
$59,000
Instructional Coordinators
$66,000
Middle School Teachers
$59,000
Education Administrators
$94,000
High School Teachers
$61,000
Despite the national average salary for teachers being approximately $60,000, earnings climb thousands of dollars above the nationwide average in several regions including Pennsylvania at $67,398, Washington D.C., Maryland, New Jersey, Connecticut, Massachusetts, California, Alaska, and New York.
Getting a Master's Degree in Education = Increased Job Security
Did you know that those who hold a master's degree not only earn more but are less likely to be unemployed compared to those who have a bachelor's degree?
In fact, data by the Bureau of Labor Statistics shows that those who obtain a graduate degree actually have a lower unemployment rate compared to those with less education — and that only 2.0 percent of professionals holding master's degrees in the United States were unemployed in 2019.
In short, landing a job is one thing, but keeping that job is another issue altogether. To make yourself valuable, indispensable even, to employers, it's crucial that you choose a master's degree in education that's going to give you the knowledge and skills needed to thrive in our ever-evolving educational landscape.
Your Options are Vast: Which Education Program is Right for You?
When considering going back to school for a graduate education program, it's critical that you choose the program that aligns with your career goals.
Take the short survey below, and narrow down which graduate education degree will prepare you for success in whatever area of education you see yourself in.
Make Yourself Indispensable in the Field — Neumann University's Master's Degrees in Education
Graduate programs in Neumann University's School of Education and Human Services are designed for both currently certified teachers looking to add a certification or enhance their skills, and for those who wish to enter the field of education and become a certified teacher. We also offer programs for those working in education related fields that do not require certification.
Through coursework, students will acquire a wide range of knowledge and skills designed to prepare them to become educators and leaders who value student diversity and can effectively apply educational theory, best pedagogical practices, instructional technology, and formative and summative assessment.
Download NU's Social Emotional Learning Master's Degree Guide to learn more about getting this niche graduate education degree!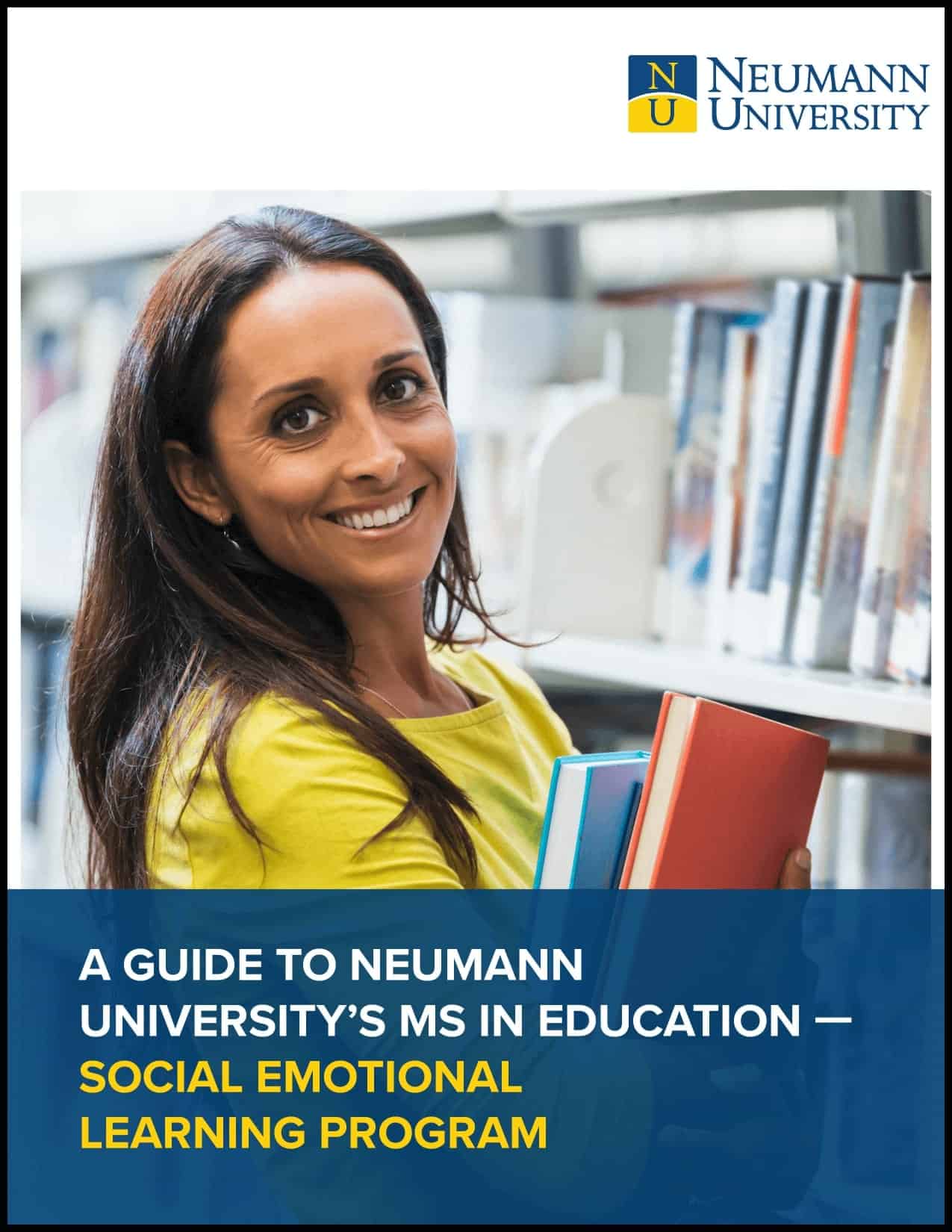 Special Education (PK -12)
This program prepares candidates to teach in a variety of special education settings supporting learners with intellectual, physical, cognitive, and/or behavioral exceptionalities. This certification can be completed as a stand-alone, initial certification or it can be an add-on-certification.
Autism (PK-12)
This program prepares teachers and other certified school personnel to develop the skills and proficiency required to educate the increasing number of students in today's schools being diagnosed with Autism Spectrum Disorder. Neumann's Autism Endorsement Program provides appropriate assessment and research-based strategies with an emphasis on skill development and behavioral modification for students of all ages who have been diagnosed on the autism spectrum.
Online Instruction (Online)
The K-12 Online Instruction program provides K-12 teachers with the knowledge, awareness, and skills to effectively and ethically design, deliver, and assess K-12 academic learning content in a fully online setting.
Instructional Coach
The goal of the Instructional Coach Endorsement Program is to provide candidates with the skills to be effective instructional coaches and prepared to deliver job-embedded professional development with the goal of improving teaching and learning environments. This endorsement program consists of 12 credits and can be completed alone or in conjunction with the M.S. in Education.
Social, Emotional, and Behavioral Wellness (PK-12) Endorsement
The goal of this program is to make explicit how social, emotional, behavioral health integrated into academics improves attendance, graduation rates and prospects for employment, increases capacity for learning, mastery of subject material, commitment to school, time devoted to school work and standardized test scores while reducing suspensions and grade retention. The endorsement may be incorporated into the Social Emotional Learning, M.S.
*For any certification and endorsement programs, Neumann University's program is good for certification in Pennsylvania only. These programs do not meet certification requirements in other states.
The Field of Education Needs Leaders Like You – Connect with Neumann University Today!
At Neumann University, we understand that making the decision to pursue a master's degree in education is a major investment, plain and simple.
Armed with the respected graduate degree in education from Neumann University, you will enter the education field with the sought-after skills needed to transform the lives of your students — in the classroom and beyond.
If you are ready to make yourself indispensable to employers and nurture the skills needed to be a fantastic educator, then we encourage you to connect with us and take the first step in boosting your career.
Request More Information

Want to learn more about the master's, certificate, or endorsement programs at NU?
Just fill out the form to get started.
In the meantime, you can also explore the following graduate resources